When you invest in a new wood floor, you've made a good decision. To make sure that your decision stays good in the long term relies on the correct maintenance. There is no escaping the fact that a wood floor that's well looked after will stay good looking for longer. So what do you need to think about when cleaning your wood floor?
The first thing to be aware of is that prevention is better than cure when it comes to wood floor maintenance. While most wear and tear can be repaired on a quality wood floor, it's true that a little regular maintenance will save you having to heavily invest in maintenance in the future.
Here are our Top 3 Prevention Tips:
1. Invest in a good doormat. Most of the foreign objects that damage your floor come in on shoes. There's a great argument for investing in a high quality doormat and making sure people use it. Ideally you should have a scrubbing doormat outside and an absorbing doormat inside. This way, you'll get optimum removal of dirt, dust and grime.
2. Vacuum and mop with a moist mop regularly. A quick daily sweep or vacuum around your home will pay major dividends when it comes to damage to your floor. Picking up the dirt and dust that escapes your doormats is a quick and easy job and will protect your floor from unnecessary damage. Once you're finished with sweeping and vacuuming, pass over the floor with a damp (not wet) mop if you need to.
3. Tackle spills and stains as soon as humanly possible. It's well worth being vigilant when it comes to spills and stains. Mopping up a spill as soon as you can will prevent your floor from developing a stain.
When it comes to more drastic cleaning of your wood floor, there are literally dozens of products on the market. Some of the names you'll hear most often are: Bona, Kahrs, Osmo, Junckers, Marldon, Morrells, Lecol, Treatex, W.O.C.A, Ronseal and Sika as well as many more products, some of which might only be available on a trade basis. So, if you decide that you want to give your wood floor a really deep clean, which wood floor cleaning product might work best for you?
Blanchon Lagoon Trigger
This cleaning product comes with a really handy spray and is suitable for both lacquered and oiled floors. It's odour free and doesn't require rinsing, which means that you can clean your floor quickly and easily. This option is ideal for day-to-day or week-to-week maintenance and is available with a spray gun or as a refill pack.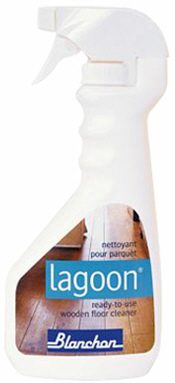 Blanchon Natural Soap For Oiled Floors
Ideal for cleaning Natural and UV Oiled floors. Based on vegetable ingredients and enriched with natural oils, Natural Soap is powerful and completely safe with a fresh fragrance. It preserves and enhances the natural-looking finish of an oiled floor.
Natural Soap for Oiled Floors should simply be diluted (125ml to 5 litres of water) and applied with a damp floorcloth, micro-fibre mop or sponge mop: mops or cloths should be well wrung out to avoid getting the wood floor too wet. Rinse the mop or cloth regularly during cleaning.

Treatex Floor Care Floor Cleaner
When your floor gets dull and dirty use Treatex Floor Care – cleaning and maintenance product for floors finished with Treatex Hardwax Oil.
Treatex Floor Care contains vegetable oils and carnauba wax, which means that as the surface is cleaned a thin replenishing and protective layer of wax is also applied without turning your floor slippery. This product has a neutral PH value and contains no solvents.

WOCA Vinyl and Lacquer Soap
This is a really versatile product, suited to any vinyl, laminated, lacquered or painted surface.  If you have a lacquered wood floor, this WOCA cleaner will help make your life nice and easy. You can apply the product with a mop, a floor cloth or a polishing machine, whichever suits you best, letting you work in your own way, at your own pace.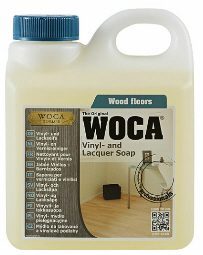 WOCA Oil Refresher
Oil Refresher is used for regular cleaning and maintenance of oiled wood floors. Oil Refresher natural is typically used for natural oiled and colour oiled floors and Oil Refresher white for white oiled wood floors. Oil Refresher combines efficient cleaning with re-oiling as addition oil is penetrating into the wood of the floor forming a mat protective layer in the surface.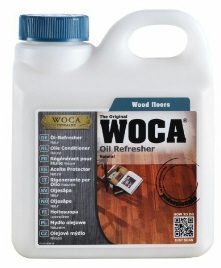 WOCA Natural Soap
Natural Soap is ideal for cleaning and maintenance of oiled, waxed and soaped surfaces. The Natural Soap is especially ideal for floors, furniture, table tops and panels. The oily Natural Soap forms a protective film on the floor. Natural Soap white and grey are recommended for surfaces treated with white and grey oil, while Natural Soap natural is ideal for surfaces treated with natural or Colour Oil.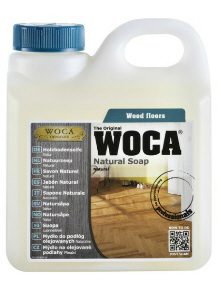 WOCA Maintenance Paste
Woca Maintenance Paste is used for the maintenance and preservation of all oiled wood floors. It provides the floor with a dirt- and water-resistant surface, which is hard-wearing. Maintenance Paste is supplied in a very handy tube and is easy to apply. The paste is especially suitable for industrially oiled wood floors – also UV-olied floors. Maintenance Paste natural is suitable for dark wood types, whereas Maintenance Paste white is used for light types. The paste may be applied and buffed manually with a white pad or with a polishing machine.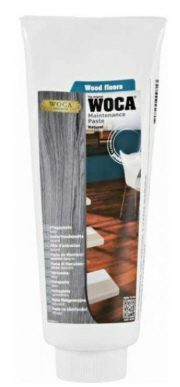 If you'd like help to choose the right cleaning product for your wood floor, why not get in touch so we can help?