Most of the people who think about laying a new floor are struggling to make a decision: will I manage to do it myself or do I need to hire a professional floor installer? In this article, we'd like to assist you in the decision-making process, presenting you with the upsides and downsides of both choices. And you can't afford to make a wrong decision here – the choice made now will have an impact on the success of the entire flooring project, determining its final result, and thus your satisfaction. Remember that properly installed wood flooring will look good for long years.
Advantages of DIY floor fitting
The most obvious advantage are of course lower costs. Any DIY floor fitting project is much cheaper than getting a professionals fitting company, because we usually don't think of the cost of our own time when implementing DIY projects, while we accept that hiring someone to do the job for us means we're responsible for paying the bill for their time.
Secondly, it's more flexible. In the case of a DIY floor project, you are free to stop and start working whenever you wish, so you don't need to take a leave to let the fitters in and perhaps be there while they're doing their job.
Disadvantages of DIY floor installation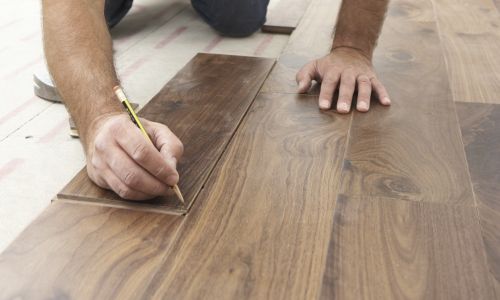 Doing the job yourself can mean that the completion of your flooring project will take much more time, especially if you're working on the project only during weekends or in your spare time. If you don't have the proper tools to do the job, it may turn out quite costly. By buying them, you won't need to beg, borrow, buy or hire the tools. In fact, even hiring proper tools can be quite expensive. Moreover, flooring projects require meticulous exactitude. People who are not meticulous enough won't achieve a good end result. This may end up costly if you'll need to hire someone to make corrections.
However, people who are not good at DIY projects, aren't really experienced and don't know how to do it should definitely hire a professional fitter. And here is why: Firstly, you get a high quality final effect and, secondly, you get a guarantee against any issues that may occur after the installation.
Therefore, if you've decided that you can fit wood flooring on your own, but you still have some doubts, before making a final decision, get several price quotes from professional fitters. Then, make a list of all the tools which your flooring project will require you to buy or hire. Only then, you have a full picture and can weigh up all the pros and cons of each option. Make sure you follow the above advice – only in this way you can rest assured that the decision you've reached is right.