If you're a pet owner, the choice of the right flooring is a crucial aspect that needs to be taken into account in the interior planning process. Many people claim that wood flooring isn't recommended and should be avoided if you have cats or dogs at home. But, in general, if you make the right choices, I don't see any reason why you should give up the idea of having this natural and ecological home decor element or face a choice: a floor or a pet. Read on to learn our top tips for picking the right floor for pets.
Invest in hardwood flooring
Most importantly, invest in hardwood flooring. Softwood is definitely not advisable, as your higher initial investment in a hardwood floor will turn out to be a better deal for money in the longer run. As hardwood is more durable and longer-lasting as compared to softwood, it will better stand up to high traffic from both pets and humans and will not be that easily damaged or scratched. Go for such wood species as ipe, maple or walnut.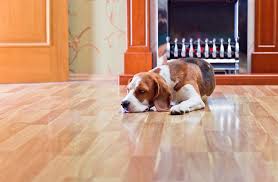 Definitely, choose solid, not engineered wood flooring. As pets' claws often cause scratching to the floor, it's crucial to have the opportunity to re-sand the floor if you need to. In the case of solid wood flooring you will be able to re-sand the floor multiple times within its lifetime, while engineered wood flooring doesn't allow that.
Right finish
Moreover, choose a hardwearing finish for the floor. From the perspective of a pet owner, both lacquered and oiled finishes have their advantages and drawbacks. On lacquered finish scratches are more readily visible as compared to oiled, but lacquered finish will in general withstand more wear and tear. Oiled solid flooring fitted in a house or flat that has pets will most certainly require more frequent recoating than in a home without pets, but it will probably look less tired in the meantime.
So, if you've already chosen the species of solid hardwood flooring and picked either lacquered or oiled finish, you should now focus on other aspects and measures you need to consider and implement to help keep your flooring look great for longer.
Maintaining the floor
Clean your pet's paws before it enters the house or flat from a walk, and definitely dry your cat or dog if it's wet outside. Remember that pets do not wipe their feet before coming into the house, regardless of the number of doormats you have. For this reason, it's of key importance to ensure you rub down the pet when they enter the house. Especially the combination of grime, dirt and water can wreck havoc on your floor, so be watchful and do everything you can to dry off the pet before it comes into the house at all times.
In addition, regularly keep your pet's claws short. Long, scratchy claws can damage your wood flooring, especially if a dog or cat is very lively and likes running around. That's why it's crucial to try to always keep the pet's claws well trimmed, so as not to damage the flooring.
In addition, always remember to mop up any accidents as soon as they occur. Even though older pets are not that likely to have little accidents, if they happen, or if you've got a puppy or a kitten, always mop up any urine immediately. Urine can cause deep stains, which are often hard to deal with. The ammonia in urine causes discolourations and unsightly stains in wood flooring. If your flooring got stained with urine we will advise you on how to deal with that in future articles.