If you're embarking on a new wood flooring project, you will need to make a decision concerning the species of wood, and it can be a tough one. There are plenty of species of wood that flooring is made of, but the most common of them include: mahogany, pine, oak, teak and cherry. However, for some time now, woods from distinct locations have been ever more popular in the context of wood flooring. So, when looking around for new flooring options, you will probably come across such wood species as ipe, snakewood, olivewood, cumaru and tigerwood. Interestingly, some of the exotic flooring options come at much lower prices than their European counterparts. So how to choose the best option for you?
Look of the wood
As far as aesthetic aspects are concerned, the decision mostly depends on individual preferences. Usually, the reason for picking an exotic wood species over European wood boils down to the look of the wood. Especially deep dark woods usually come from more exotic locations as compared to bright or mid-coloured woods which are common in Europe. Those of you who are searching for black wood or tiger striped wood should look for it among the exotic wood species. Really dark wood, such as African wenge, or tigerwood, which has a very distinctive stripy grain, won't be found in Europe, and the reason is simple: they don't grow in our climate. That's why the proponents of the kinds of wood with such natural look have no choice but to go for an exotic species. However, there's also an alternative: you can choose an indigenous species, but you'll need to accept that it has been coloured so as to suit your preferences.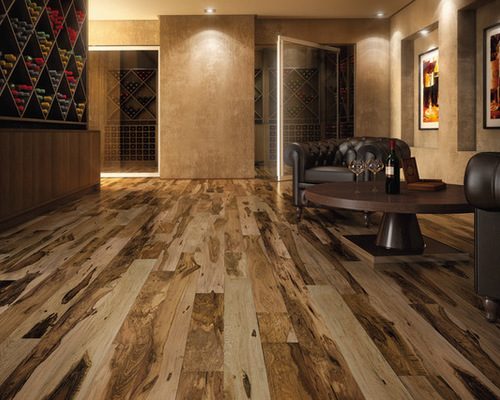 Responsible buying
There is more to such a decision than merely considering which product is more affordable or better. Looking from the emotional perspective, you should go for local products. Such a choice is also considered to be more moral. Undoubtedly, by buying local goods you support your area or region, which, in turn, boosts the country's economy. Even though Europe is a large continent, it's obvious that even wood that has been transported for instance from the Scandinavian Peninsula to the UK has made less of journey as compared to wood which comes from the southern hemisphere. While a choice of Italian or French over African wood may not directly influence your local economy or environment, but there is some comfort in picking European – it is less probable that its production process entails for example illegal labour practices. Yet, even when buying European wood, it is advisable to go for wood which comes from a well-managed and sustainable source, which will be covered in more detail below in the ecological argument.
Let's now consider the issue from the economic point of view. Wood that originates from some distant locations travels across the globe and its costs are still a lot cheaper than relatively speaking 'locally grown' wood. Why is that? It's becoming less frequent thanks to conscientious consumers, but the reason often lies in the wood being lumbered illegally or in the fact that the production process is carried out by cheap labour. No matter whether the land or the people are being exploited, it's a good idea to always make sure that the wood you buy comes from a reputable source.
What is more ecological?
As far as ecological reasons are concerned, we all know that chopping trees down isn't beneficial for the Earth in the long run and considering this, a crucial thing to bear in mind when making a choice between European and exotic wood flooring is how the forest from which the wood comes has been managed. There is something that can help you with that. A very useful standard has been developed, which will help you decide – it's called the Forest Stewardship Council (FSC) accreditation scheme. The FSC accreditation scheme identifies timber which was obtained from well-managed sources in a sustainable way beyond a shadow of a doubt. It focuses on the way in which forests are managed from a social, economic, ecological, cultural and spiritual point of view, and is meant to serve present and future generations.
Have you already found a good argument for picking either European or exotic wood? In fact, the answer to this question is difficult, as much boils down to price, look, personal preferences and availability of the given species of wood. Considering all of the above, there's one piece of advice that's always worth remembering – always ensure that whichever option you choose it should come from forests managed in a sustainable and responsible way.