Which type of flooring is the best for you? That depends on the needs of the premises, be it your home or office or somewhere else. Let's have a look at the various types of flooring available to help you decide which is best for you.
Wood flooring: real or parquet?
Real wooden floors are fantastic. They offer warmth underfoot, even when uncarpeted and wood adds a wonderful natural ambience to your décor. You can choose wooden furniture that matches your flooring to give the whole room a polished and put-together appearance that looks fantastic.
If you cannot afford real wood solid floors, you can always opt for parquet. These distinctive herringbone patterns add their own charm to a room, and a lot of small individual pieces cost so much less than the same floor coverage in solid planks. Parquet tiles can be made from a number of timber types, including reclaimed oak flooring that has been stripped and the wood salvaged.
One interesting and sophisticated type of flooring you could also try is Versailles flooring. Give it a look, you might fall in love with it immediately.
Both types of wood flooring need careful treatment. Even antique oak flooring that has already stood the test of time and is almost as hard as stone needs to be looked after carefully. Wood does not take kindly to spills or even heavy mopping as it can warp, split and discolour, so it needs to be kept as dry possible.
Parquet flooring is also very sensitive to water and soaking parquet tiles can cause them to warp and buckle: this makes it impossible to fit them back together in their original tight formation.
How to care for wood floors
Wooden floors need careful treatment. Not only should they not become too wet, but high heels can also leave marks, grit and dirt can abrade the surface, and moving unprotected furniture across the floor can leave permanent scrape marks. To clean these floors, you should use a soft brush to sweep off as much grit and dust as possible, and then use an appropriate detergent with as little water as possible.
It will then need to be dried immediately, and this action should be followed by the application of a protective wax or polish that will repel dirt and stop drinks and mud from staining the wood fibres.
If you are confident that your floors will not be subject to heavy soiling and splashy messes, then you can go ahead and indulge your taste for real wood flooring, secure in the knowledge that your new floor will look wonderful and last a long time.
But if you are a modern family and subject to mess, spills and the occasional water balloon fight, then you might prefer to look at modern flooring materials. Modern methods of vinyl production have changed our perceptions.
Modern vinyl flooring
Linoleum flooring used to be thought of quite negatively, or as being only for those too poor to have 'proper' carpets or wooden floors. Today, you might find yourself hard-pressed to spot the difference between modern vinyl flooring and the 'real thing.' Vinyl can now look exactly like several different types of wood, including hardwoods, or stone, even having accurate texturing to maintain the illusion.
The beauty of vinyl is that it comes in a host of textures and colours, allowing you to dramatically change the look of your room simply by changing one vinyl for another. You can swap stone tile effect vinyl for wood-grain vinyl and instantly warm up the room, making it more welcoming and friendly and seeming to have an authentic hardwood floor, in just one simple move.
It can also be cut to fit any room. Some houses have odd angles inside where space has been used by boiler cupboards, chimneys, and even storage alcoves, but vinyl is so easy to cut into shape and fit into the trickiest corners. You can also have it cut in one piece, in most cases, meaning that your floor then has the benefit of being almost fully waterproof as well as boasting a seamless surface.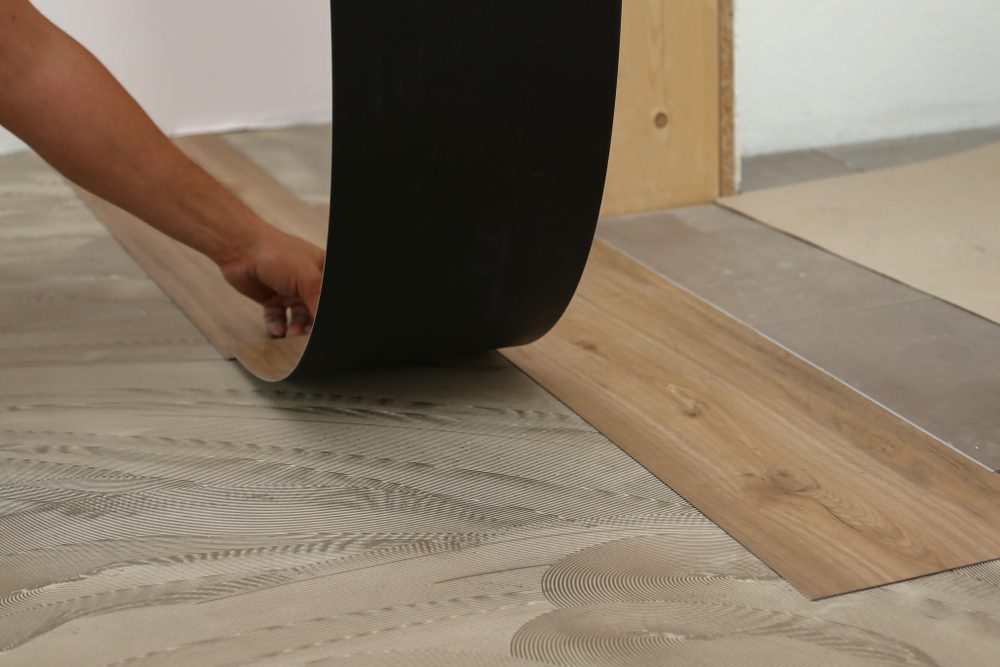 How to care for vinyl flooring
Vinyl flooring is wonderfully easy to clean and maintain. It is tough and durable, resisting most scrapes and shedding dirt easily. It is possible to scrape or scuff vinyl, but you do have to work quite hard to do so and most accidental bumps and drops will not affect it.
Scrubbing with warm water and detergent, cold mopping, or even gentle steam cleaning all work well on tough vinyl floors. NB: if your vinyl is laid over a wooden base, avoid using your steam cleaner, especially in areas where the vinyl has been cut to fit and there are seams. The steam can penetrate under the vinyl, warping and damaging the wood.
So which flooring is right for you: classic or contemporary hardwood flooring? Hopefully, you now have a great idea about what you want for your floor, along with what you will need to do to maintain and take care of it.