When designing your dream country farmhouse, you want flooring that will make a big impression!
The modern farmhouse style is a favourite for architects and interior designers alike. This classic style is all about natural wood – so choose your flooring wisely.
Distressed aethetics
Wooden floors are a classic choice for a country farmhouse. The natural textures and warm tones are perfect for country interiors, and are currently on-trend too.
Distressed aesthetics are a great choice if you have children and pets. The unique style of wooden flooring will give an old and worn feeling to a brand new hardwood floor.
Distressed floorboards have a low-maintenance textured finish, and the natural features will add character to your flooring. The patterns and textures will also hide decades of wear and tear, and it will even gain charm as it ages.
This is a strong and reliable choice for a busy family home.
Choose wide planks
Another classic element of wooden country farmhouse floors is wide planks. They create a rustic look that is quintessential to the shabby chic style that is yet to go out of fashion. Wide plank flooring is a great choice to add elegance to any home, and they will last for decades when cared for properly.
A wide plank floor will inject a new feel to a room. It looks traditional and rustic, but still works well in modern and contemporary spaces. The wide planks will create an open feel, making even the smallest rooms feel bigger.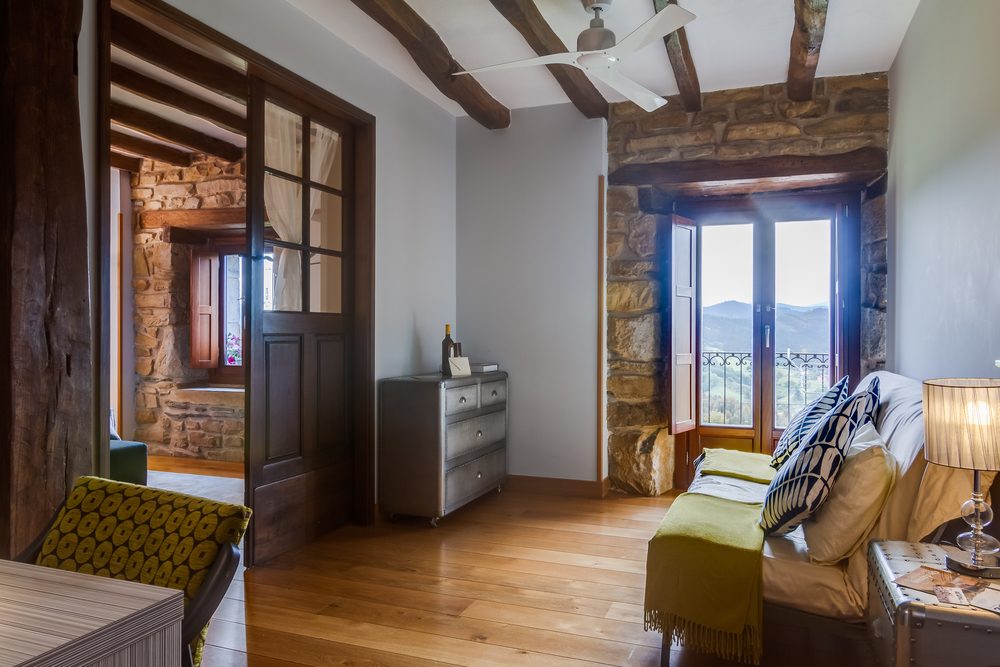 The finish is key
When it comes to country farmhouse style, why should you forgo the high gloss and go for more matte and natural looking finishes?
A matte or brushed natural oiled finish is ideal for making oak wood flooring look more natural. Glossy finishes may help brighten up a room, but the finish often detracts from the natural beauty of the wood.
Matte dark antique oak flooring is a perfect choice to create rustic charm. The natural and practical finish is ideal for the contemporary home.
Master the rustic look
So you've chosen the perfect rustic flooring for your country farmhouse, but how do you complete the look?
Don't be scared to mix and match your wood! Classic wooden dining chairs and tables look great on any floor. Then pair your wood with upholstery and soft furnishings in warm and cosy neutral tones like taupes, beiges and browns.
Industrial edges are a great match for weathered woods. Why not try adding shiny granites and polished metals into your kitchen? Industrial light fittings are also a fashionable choice and a unique talking point for any home.
This will tie together the farmhouse style wonderfully, providing a practical family home and welcoming environment for guests.
When it comes to the country farmhouse style, everything is meant to be a little rough around the edges. Make the right choice for your wooden flooring and create farmhouse charm without compromising on comfort.