Are you looking for something outstanding that will attract the attention of the visitors to your home? You may want to consider hand scrapped wood as a flooring option for your interiors.
This type of wood flooring has gained extreme popularity in recent years among those seeking an alternative to traditional flooring options. Hand scrapped, or hand sculptured wood flooring, is wood flooring which has been aged, distressed and worn. The method used for achieving such an effect is called hand scraping. Hand sculptured wood floors are available in various looks, and each of them is very unique. Such a floor is stunning and gives the appearance of a wood floor with numerous rich character markings. It may be quite costly as compared to other flooring options, but it's definitely worth its price.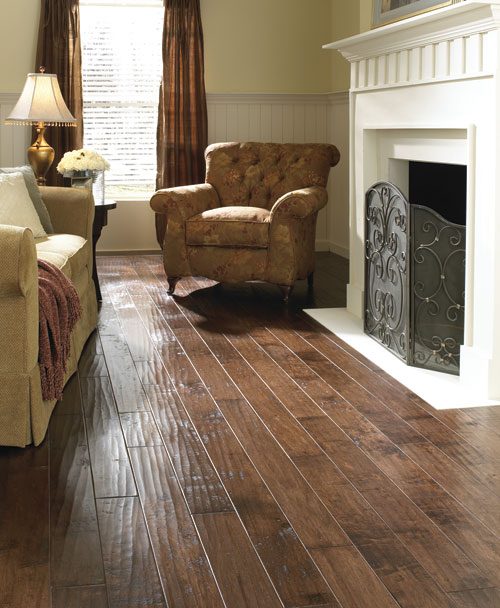 The technique, used to make the floor look like old and reclaimed, is nothing new and had been used long before mechanical wood working tools were invented. At that time, wood planks had been usually sawn by hand. Therefore, such planks cut by hand were rather uneven and irregular, unlike now, when they're machine-cut, and thus more regular.
Hand scrapped hardwood flooring is created by hand, with the use of wood scraping tools, to give an old wood appearance. In the past this technique was used to make hand-sawn wood flooring look more level and get rid of all the irregularities in the final product. Funny as it may be, before the invention of machines, the hand scraping technique was used to achieve a totally opposite effect than now. In the past, the purpose was to make the floor look more regular, smooth and achieve an even surface, but, now it's used to achieve a worn look. An interesting thing about hand-scrapping in the past is that back then wood was soaked, which facilitated the scraping process.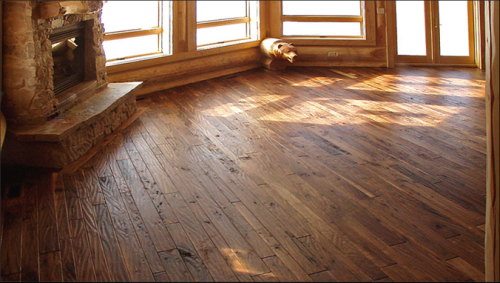 Stylish and very unique, this flooring option is a modern trend, but these days 'hand' scraping is only sometimes done by hand, and more often by a machine. A floor subjected to this process is made to look weathered and has artisan markings. It's all meant to suggest that the flooring has its interesting history and is somehow mysterious, which gives it an incredible appeal. Such a floor owes its unique charm to its finish, which suggests that the flooring could have previously been installed in some grand building or been used for long years in some popular place.
Hand scraping technique can be used with both solid and engineered wood floors to give the floor an old wood appearance and make your interior exquisite and special. You obviously have to be prepared to pay more, especially if the scrapping is carried out by hand, and not by a machine, as the process requires a certain amount of time and effort. But, if you only can afford it, you'll not regret the investment. You'll love the final result at first sight.