Today, dark wooden floors are a very common choice among homeowners. They are very versatile and suit both modern and traditional interiors. When it comes to natural wood flooring colours, you are spoilt for choice, as there is a wide range of different shades, starting from light maple and beech tones ending with deep dark hues like walnut and ipe.
Usually exotic species of wood, such as walnut and ipe, are more expensive. Would you like to have a beautiful deeply dark look of these exotic woods? Are you tight for money? There are certain ways in which you can get a dark floor without spending a fortune. Read on to learn how to do it.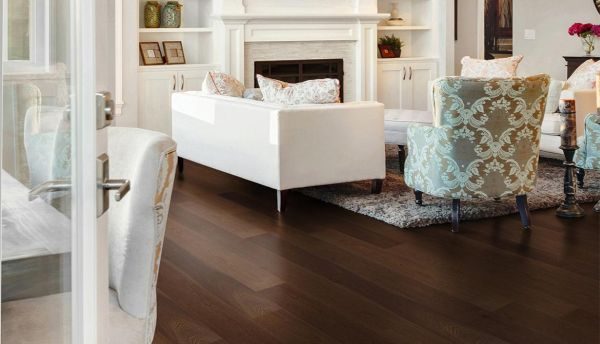 Probably the best choice as a base for creating an exotic hardwood look for a much more affordable price is oak. This species of wood can be coloured with many different stains, oils and specialist treatments. Below we've discussed the main methods to make your oak wooden floor dark on your own. They include fuming, baking, staining and oiling.
Fuming
Fuming is also called smoking, it's a technique that should be used by professionals rather than DIYers. The reason for this is that it involves taking the oak into an enclosed environment, such as a tent, a container, or a closed tank, where ammonia is introduced into the atmosphere (it's NOT about applying ammonia directly to the planks). In this way, ammonia changes the colour of wood, by making the tannins in the wood get to the surface of the planks, thus making the wood colour darker. As a result, if you keep the wooden planks in the ammonia-laden atmosphere, the wood will get darker.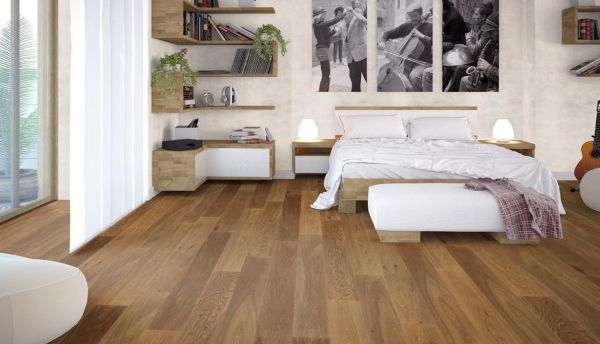 Baking
Also called thermo treating is another process that should be carried out by an experienced professional. Such a treatment makes the wooden floor colouring darker, ensuring higher durability of the wood.
Staining
It probably ranks among the simplest DIY methods that can help you make your oak floor dark. However, as this process gives a very intense result, you may decide to have it done by a professional. To achieve a great final result you should first sand your floor, using sandpaper with higher grit and then with a finer paper. Experts recommend to add a light covering of water to the floor, which will facilitate the absorption of the stain. However, you should always check it with the manufacturer. A really deep dark colouring can be achieved by applying up to three layers of stain. A drying period between each application should be about 12 hours. Then, you will need to apply varnish several times to ensure your floor is well protected.
Oiling
This is a relatively simple way to make your oak wooden floor darker on your own. That's probably the best method for those who would like their floor to have a natural look.