If you are considering revamping your floors and you love a wood finish, you may be pondering the particular benefits of engineered wood and solid wood. Which is the best choice for your property? First of all we need to explore the differences between these materials.
Engineered wood: Engineered wood consists of a layer of wood veneer on top of a plywood base. This differs from laminate flooring which is made of plastic with a wood grain image on top. (For the differences between laminate and hardwood flooring check out this recent post.)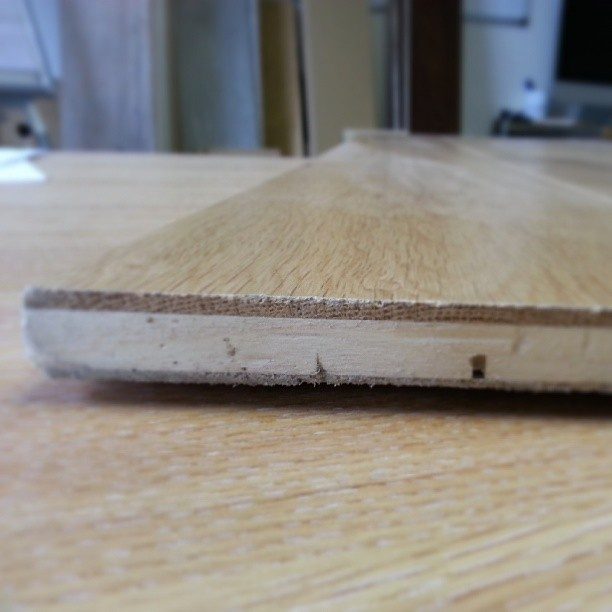 Solid wood: Solid wood, as the name suggests, is simply a solid piece of wood from top to bottom.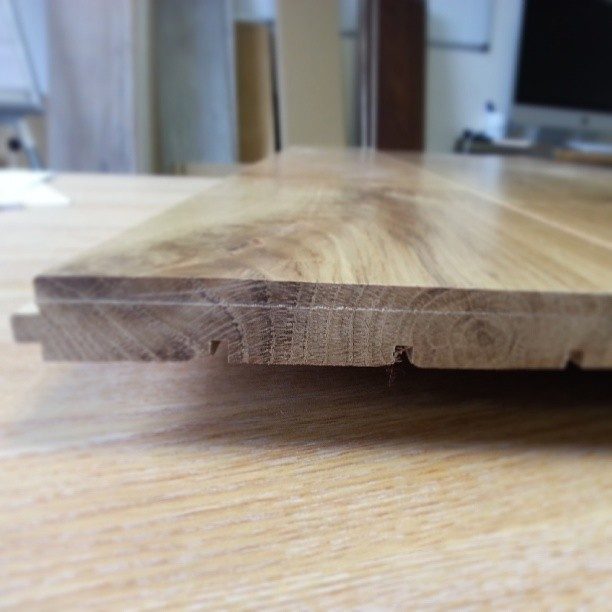 You might assume that solid wood is a superior material because it is 100% top quality wood. But there are a number of factors to consider before you choose the flooring material for your property. These include the following:
– Whether you have under-floor heating
– Whether your room is subject to damp or moisture
– Whether your floor will see a lot of traffic (eg. in a commercial property)
– Whether the base of your flooring (your sub-floor) consists of wooden boards, concrete or stone
The Benefits
Engineered Wood Flooring…
• Durability
Engineered wood flooring is beneficial if you do have under-floor heating, damp or moisture, or a lot of foot traffic. This is because it is very durable and can cope with conditions that could possibly damage a solid wood floor. It is less likely to warp under extreme temperatures and if exposed to a lot of direct sunlight or moisture.
• Choice
Engineered wood flooring is available in a wider range of sizes and finishes.
• Easily fitted on various surfaces
While it can sometimes be problematic laying solid wood flooring on some concrete or stone sub-floors, engineered wood can be glued down quite easily, or allowed to float. A floating floor is where the flooring boards attach to each other but not to the sub-floor below.
• Can be sanded
Although engineered flooring has just a veneer of solid wood it is generally 3-7mm thick and can be sanded down up to five times. This enables you to cover up any minor damage or marks made.
Solid Wood Flooring…
• Quality timber
An advantage of buying solid wood flooring is that you know you have complete pieces of quality timber. This is very appealing for many home improvers who want their property to be, well, solid! Wood flooring is usually nailed down to wooden floorboards so if you have a wooden base to work on you can rest assured that it is very secure. Solid wood floor can also be glued down to either a concrete or timber sub floor. If not, modern solid wood can sometimes be allowed to float on a concrete floor, sometimes with the aid of some underlay.
• Long lasting
We've acknowledged that engineered flooring is very durable and able to cope with various conditions. But then so are many solid wood floors. This is evident from the number of ancient wooden floors that still exist in historic buildings all around the world, from schools to churches, libraries and public buildings. A well maintained solid wood floor can last for decades, or even centuries. 
• Can be sanded and repaired more

Solid wood floors can be sanded down to the the groove – this means they can be sanded usually one or two more times than engineered floors. Sanding takes generally 1 – 2mm off the surface. 
Cost and Making your Mind Up
The prices of engineered and solid wood flooring don't differ very much these days so cost shouldn't be that significant in your decision. Your choice should be based, in part, on your particular property and how it is constructed, plus the use of the rooms in which you are considering installing new flooring. However we feel the choice is really an aesthetic one – solid floors boards are generally narrower and the lengths are shorter – this alone creates a very different look to the wider longer engineered floors. And like we have mentioned, engineered floors are available in many more colours and finishes than solid wood floors.
Hopefully this post will help you choose between solid or engineered flooring, but for more information please get in touch.
For advice about the best wood flooring for your home feel free to contact the ESB sales team. Contact us now to request your no hassle no obligation free samples or come down to our North London showroom for a closer look.