Are you going to install wood flooring over underfloor heating? Then remember that you should choose appropriate engineered wood flooring, as solid wood flooring is not compatible with underfloor heating. When it comes to engineered wood flooring, you've got a wide variety of different finishes and styles to choose from. As you remember from our previous articles, engineered wood, also called composite wood, is made of two or more layers of wood or plywood fixed together to form a plank with the use of adhesives. This type of flooring has a layer of wood on top and therefore it looks amazing and natural.
Engineered wood flooring has this considerable advantage over solid wood flooring that it's stable and can be used when installing a wood floor over underfloor heating. Solid wood flooring isn't stable enough and is more prone to 'gapping', 'cupping' and 'crowning'. It's easily affected by large humidity and temperature fluctuations.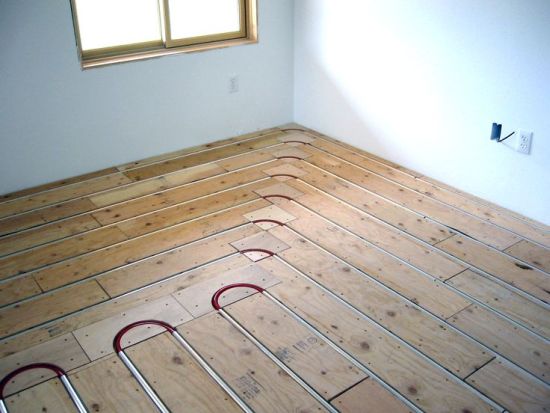 Underfloor heating
Let's move on to underfloor heating, as it's the next important thing you'll need to focus on when making floor-related choices. If you've decided to install wood flooring over underfloor heating, the installation method will depend on the type of heating. You've got two main options to chose from: wet and electric. 
Electric Underfloor Heating
In electric underfloor heating systems, a heating element is used to produce heat. This type of underfloor heating requires the flooring to be floated. That is an installation method most recommended in this case, whereby a floor is not fixed to the subfloor, neither by nailing nor by gluing down. In the case of this fitting technique individual planks are attached to each other (instead of being fixed to the sub-floor) with the use of glue, nails, or by being snapped together. Usually, the floating installation technique requires the use of an underlay. If you've chosen the floating installation method and you'd like to put an underlay underneath it, remember to consult it with a professional and choose the right one. The underlay should be suitable for the floor you're fitting.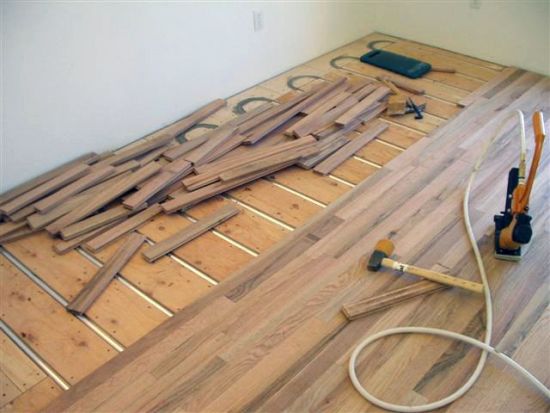 Wet Underfloor Heating
In the case of wet underfloor heating, the heating system uses water for heating. Therefore, you can link it to almost any heat source. In this case, it's recommended to glue the flooring straight on to the screed. Always install an engineered wood floor by gluing it down if you're fitting it over wet underfloor heating, as it will allow the floor to expand and contract along with temperature changes. This is possible thanks to the properties of the glue which is flexible. Moreover, in the case of glued flooring you can avoid air pockets, which can sometimes occur if the floor has been installed over underfloor heating.
Installing a wood floor over underfloor heating is a relatively easy task, but anyway we'd recommend you to check everything twice if in doubt and always consult an expert for information on the most appropriate installation method and any other additional tips you may need later on. And last, but not least, always pay attention to the manufacturer's instructions both in the case of underfloor heating and flooring.