As it's potentially the busiest room of the house, let's explore living room refurbishment, including furniture, wood floor designs and other advice from one of the leading flooring companies London homeowners turn to.
Sometimes referred to as a lounge, your living room could serve a multitude of purposes. It is often the hub of a house. The family congregate here to watch TV, listen to music or socialise while playing with electronic devices.
Possibly your living room doubles as a kids' playroom. For other homeowners, their lounge is the centrepiece of their home. They keep it tidy and clean at all times.
This all means that choosing interior designs for living rooms is highly personal. Does the finished result need to be a soothing oasis of calm or a bold, colourful and vibrant environment?
Some great tips on how to decorate your lounge are outlined below. Some interior design values are universal for house refurbishment, starting at ground level!
Firm foundations for your lovely living room
Flooring can be a focal point for your room's decor. It needs to be chosen with care if lots of foot traffic and moving furniture are possible!
How would flooring companies approach this topic for family rooms?
Certainly, creative wooden floors such as chevron flooring would be advisable. It is versatile, heat efficient and durable.
Wood floor designs can be developed to match your colour scheme. Or you could plan the rest of the room to complement your wood floor patterns!
There are great alternatives to having a wooden floor though, including herringbone laminate flooring. Using herringbone laminate flooring gives the same perception of warmth and character as you would achieve with wood floor designs.
The difference is that herringbone laminate flooring can be much quicker to lay and cost effective if wood floor patterns are out of your budget.
Do you need more information about floors for your home refurbishment?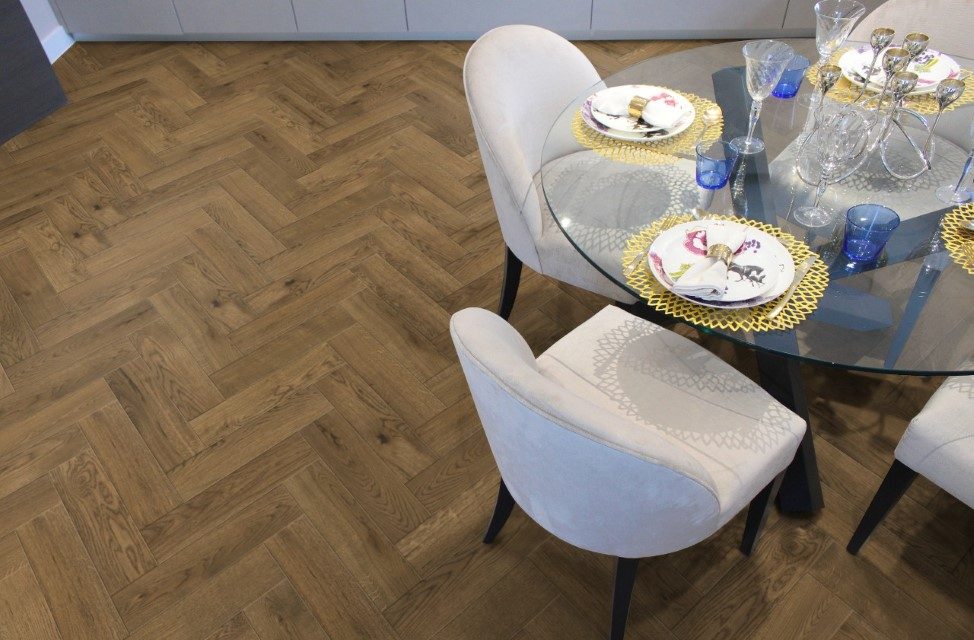 Wonderful walls
These days, products to decorate your home are diverse and creative. This includes a vast range of paint shades, as well as textured and patterned wallpaper.
At one time, the trend was for living rooms to be minimalist and super cool. White and grey were popular for walls and even wooden floors.
To complement your wood floor designs – or herringbone laminate flooring – you may want to introduce earthy colours to your living room decor. Reds, oranges, yellows and even deeper greens are now popular for walls. Paler neutral colours are also "in".
There are great ideas on creating feature walls in this article to help you to decorate with style.
If you prefer a single unifying colour for your walls when you decorate, then you can add interest to your living rooms with chevron flooring, for example. Chevron flooring has that distinctive and calming geometric flow pattern.
To create a comfortable, warm environment in your house, from your wooden floor to the finishing touches, the right furniture is central.
Living room furniture tips
Complementing your wood floor designs with similar wood effects and shades within your furniture can look amazing.
There are also bold statement pieces available to suit any theme – from rustic to contemporary and industrial to Victorian.
The best tip on selecting living room furniture, as many flooring companies London and beyond will tell you, is to go for comfort!
Having a living room that looks like a glossy magazine cover takes a lot of work. And furniture that is "art" has its place within interior design.
However, this is a room that is meant to be "lived" in, so items of furniture should be a joy to use as well as good to look at. This article could provide great inspiration.
Little touches and room for living
Space to breathe and move around should feature in any living room interior design. It's recommended that you don't pack too much in, with over-abundant ornaments and decorative pieces. This is especially true if you have chosen bold-coloured walls or chevron flooring, for example.
After saying that, the finishing touches can really make your living room interior design special.
This could include a statement piece of wall art – front and central – or a cluster of wonderful family photographs in wood frames.
This is where you can refresh a living room if you don't have the cash for refurbishment too. Making small changes and improvements can lift the space – and your spirits. This could include, for example, bringing new life to existing wood floor designs by restoring the surface.
ESB Flooring stands out amongst flooring companies London homeowners use for inspiration and not just wood floor patterns! Get in contact to find out more.