As one of the biggest flooring suppliers in London, here at ESB Hardwood Flooring, we know that wooden floors are probably one of the most sought-after luxury amenities in the home market. We also understand that choosing what type of wooden floor to install in your property is a hard and important decision to make.
Therefore if you came to the point where your choice is narrowed down between laminate and hardwood, below we have some information on both types of flooring to help you make right decision.
Hardwood and Lamiante prices
Hardwood floors are made of natural wood, can last even for 100 years if properly maintained and they are simply beautiful. They come in planks or strips and each piece have a unique natural pattern. But hardwood isn't cheap, in both the product cost and an installation and many home-owners are often choosing an affordable laminate flooring. 
High end laminate flooring can provide the look and the feel of natural timber; they have a wide variety of designs and styles to choose from but at a much more accessible price. Whichever is you preference, there are pros and cons for each choice, it just depends on your priorities, budget and what you think will work best in your lifestyle and your home.  Below, you will learn more about the similarities and differences between both wood flooring materials.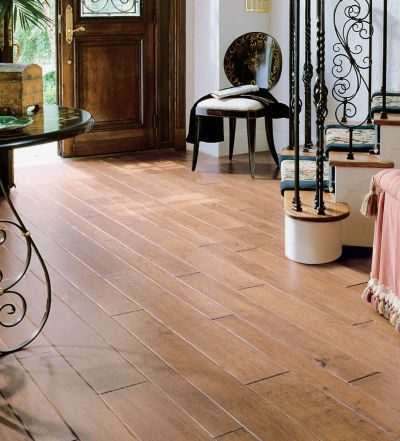 Look of the floor
If the look of the flooring is your main concern, go for hardwoods. Nothing matches the utter beauty of black walnut or cherry floors. But if the money is your concern, you might want to consider laminate, which is made from a wood composite material formed under high pressure and heat.
Artificial wood-grain to imitate the looks of the real timber is used to finish the material. Laminate products look so genuine that your friends won't even know it's not a real hardwood product. Best of all, you will spend half of the money you would have to spend for hardwood flooring.
Flooring durability
Another very important thing to consider is durability. If properly cared for, hardwood can last for years but even the hardest wood flooring is vulnerable scuffs from foot traffic, damage from moisture or scratches from furniture. Laminate flooring is much more resistant to nicks, scratches, wear and tear than the real timber since it's made from a pressed wood.
Because laminate floors are more moisture-resistant than hardwood floors, they are a better choice for basements and all other places with humid climates. Laminate is also much easier to clean than real hardwood.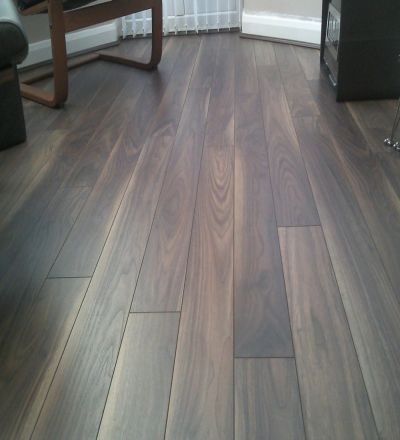 Wooden vs. Laminate floor repair
Although wooden floors may be less durable than laminate flooring it is easier to repair. If a hardwood floor is harshly scratched up, faded, or otherwise damaged, imperfections can be always refinished or sanded down. A hardwood floor that is 60 years old can look as good as brand new after such a treatment.
Laminate floors are harder to repair in general, and they cannot be made to look brand new similar to wood floors. If you will buy laminate flooring that comes in individual pieces you may be able to replace it but there is no guarantee that the finishes will match perfectly. Depending on sunlight (that will gradually fade the colour) and age the new piece may not match properly. Even if you buy exactly the same laminate product, different dye lots may have slightly different appearances.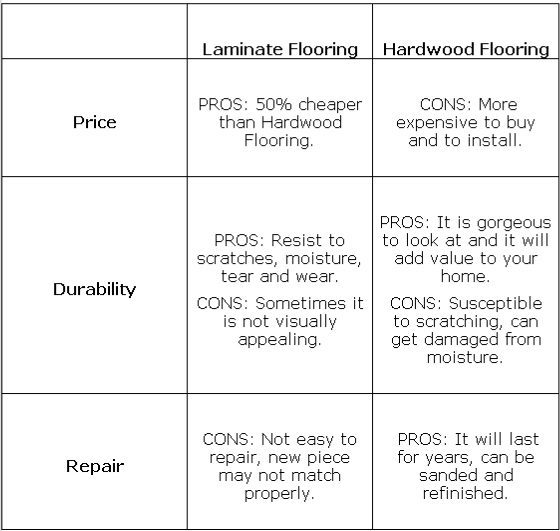 Your home will benefit from both types of flooring but deciding on hardwood or laminate is up to you. Review the cons and pros and take those different facts in to consideration: do you have pets, young kids, or extremely high foot traffic in your home?
If you have plenty of sun entering your home, hardwood can easily fade as it is a natural product. Laminate wood flooring on the contrary has UV protection that has been 'man-made' into the surface.
ESB Sales Team members will advise you about wooden and laminate floors available in our showroom. You can contact us or visit our North London Showroom if you require more information and advice regarding laminate flooring or hardwood flooring supplies.