If you need to remove a sticky spot on wooden flooring, you've got a few methods at your disposal. The choice depends on the reason as well as the extent of the stickiness. We would like to present you with some advice on removing different types of stickiness on the floor. Read on to learn a handful of tested tips and tricks.
Sugar-based drinks are the worst causes of sticky floors. A perfect method of getting rid of this kind of spills is getting 2 cups of water, half a cup of white vinegar and a tablespoon of washing up liquid – you need to pour it into a spray bottle and then apply a light misting of such solution to the floor. Once you're done, wipe it off using a damp cloth and carefully dry the floor. In the case of fresh spills, this method will remove any stickiness that has been left.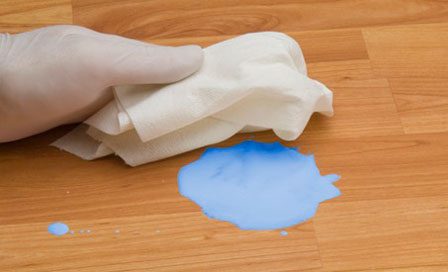 But deeper spills in the case of which cleaning the surface isn't enough to get rid of the stickiness, require a more aggressive floor cleaner – for instance Blanchon or Bona products. While picking cleaning products from these product ranges, ensure you make the right choices. The cleaners must be suitable both for the floor and the finish. Some of them will be better as compared to others, depending on the finish and the grade of the flooring. And remember to consult your wood flooring provider or another flooring professional every time when you're in doubt. Moreover, always remember to use those products in accordance with the instructions on the packaging and make sure to follow the outlined health and safety measures.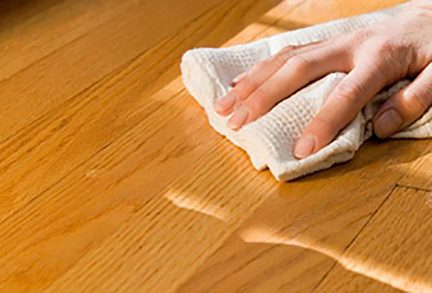 Once you've used both the first and the second option we've described above and neither of those methods turned out to be effective, the stickiness may be caused by damage to the flooring finish. There are some substances that can cause damage to wood floor finishes. Even if the spill is removed right after it occurred, the acid or other ingredients they contain can damage the finish of the floor. Such damage may cause a sticky feeling. In such a case the best solution would be to get a professional to re-finish the floor or re-finish the floor yourself. The choice is yours and it will depend on how serious the problem is and if you are confident when it comes to doing the job on your own.
If DIY is your preferred option, carefully remove the finish, sanding it lightly until you see you've managed to remove the stickiness. If you're sure the floor is no longer sticky, remove any dust using a vacuum cleaner and refinish the floor using the existing floor finish.
However, if none of the above methods is effective in resolving the problem, you may need to remove and replace the boards, which is the most expensive, but sometimes the only option.