Lacquer, matt lacquer or oil, each of these methods of surface treatment  highlights the natural beauty of the wood. The choice depends on your preferences, colours you like and the style of your home's interior. 
This decision can be left to the last minute it is worth knowing what options are open to you.
In following 2 articles we are going to give you a clear overview of the two most popular wood flooring finishes: oiled and lacquered.
Lacquered (and Matt-Lacquered) Wood Flooring Finish
A lacquer is a bit like a modern day varnish and is applied to a wood floor as a way of protecting the floor and often giving it a shine.  Lacquer effectively sits on the top of the wood and doesn't sink in like oil does.
When should you choose it?
This finish should be chosen for a room with heavy or high footfall. It is also recommended  as a high gloss or gloss finish.
The look
Lacquer comes in few finishes: gloss, high gloss and matt.  The latter one tends to have a bit of shine to it as well. So when you are choosing the finish for your wood flooring it is important to be aware of a shine level you want to achieve.
1. matt lacquered, 2. lacquered, 3. high gloss lacquered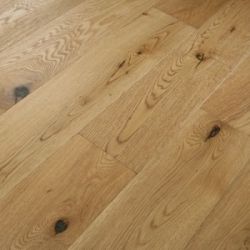 1.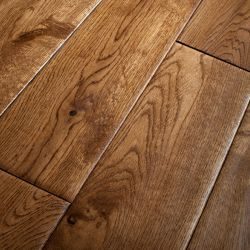 2.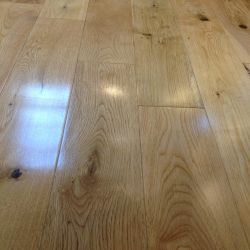 3.
Maintenance
Simply said the lacquer finish provides some water resistance. But it is never a good idea to splash large amount of water on any floor.
Lacquer finish has a tendency to show scratches much more easily than oiled floor. So ones lacquered finished floor starts to look worn ant tires, the best is to re-sand and re-finish it. 
Level of protection
Lacquered finish offers the toughest protection. It is hard to find a gym or dance basketball pitch that isn't finished in that way. That said, because lacquer sits on top of the wood, when it is worn away with wear and tear, the bare wood is left exposed and susceptible to damage.
Advantages and disadvantages
For many years most of the wooden flooring in the UK were pre-finished lacquered or lacquered on site. Maintenance is simple. Also thanks to the newest innovations in wood flooring finishes it is now possible to achieve the same appearance as an oiled floor to make the wood look more 'natural'.
The biggest disadvantage of a lacquered finish on a wooden floor is that it 'sits' on the floor. It also tends to scratch more easily than an oiled floor.
When due to abrasive effect of dirt or damage with a sharp object the lacquer doesn't protect the floor boards anymore then moist and dirt will make the wooden floor look 'grey'. Even with the best maintenance efforts.  And it can even get worse when you will try to clean damaged area with the moist cloth. The only solution is complete re-sanding the floor and applying new finish.
For advice about the best wood flooring for your home feel free to contact the ESB sales team. Contact us now to request your no hassle no obligation free samples or come down to our North London showroom for a closer look.