Apart from the issues that we've discussed here multiple times, such as wood variety, finish, grain pattern, installation method, total cost, type of edges or subfloor, under-floor heating, etc., there is also one more thing to consider. When making decisions concerning hardwood floors, people tend to forget about the amount and type of traffic in the given room. Sometimes, overlooking this issue doesn't cause any serious problems. However, in some cases the choice of the wrong flooring type which is not adjusted to the amount of traffic in the given room may have serious consequences. Therefore, it's recommended to pay careful attention when picking the type of flooring, especially for rooms with high or heavy footfall.
High footfall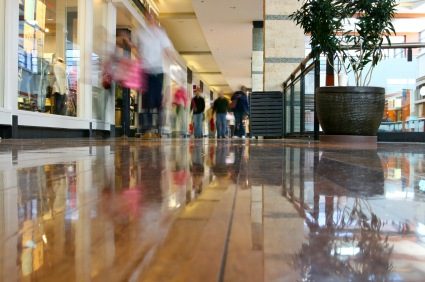 High footfall commonly refers to the number of people who visit a shop within a day, week or a month. This term is also used to refer to the number of people using certain communication routes. Briefly speaking, it's all about the number of "feet" which cross a certain area within a specific period of time.
People running a business, such as a pub or a retail store, should most certainly focus on that issue as one of the most important considerations in making decisions concerning their flooring project. If you open a business, no matter if it's a shop, a pub or a restaurant, you usually assume that there will be a lot of people coming to visit you and buy your products or services, which means that your floors will probably have to withstand high footfall.
When it comes to domestic settings, high footfall may be related to having a large family or many occupants living in a given house or flat, but it may also be connected with working from home. So, if there is a rather large number of people living in your home or visiting it on a regular basis, you can say that those areas are affected by higher footfall and, consequently, increased wear and tear.
Heavy footfall
We are speaking of heavy footfall in rooms which are likely to come in contact with heavy-soled shoes or dirt, or are visited by people using wheelchairs or walking aids. This includes areas such as hallway, stairs, or entrance halls, which are most likely to absorb higher than average impact on the floor. When it comes to commercial settings, pubs, bars, restaurants or schools can be mentioned as examples of places where heavy-duty floors are simply a must. Both in commercial and domestic settings, heavy footfall simply needs to be taken into account.
Dealing with high or heavy footfall
Prevention is better than cure ¬– this rule proves right in many situations in life and is definitely true in the case of making wood flooring choices. It means that if you expect high traffic in your interiors, you definitely should act in advance and be ready to handle it in the right way, by making sure that the floor you've chosen will withstand high or heavy footfall.
Ignoring high or heavy footfall when picking the floors for your home would be unreasonable, as it always has an impact on your floor. Today, there are many stylish and resilient hardwood floors that meet even the highest expectations and give you the peace of mind that your floor will withstand much more traffic while still looking elegant and attractive. Therefore, we've listed a couple of top tips that you may want to take into account:
Go for the best floor that you can afford – this investment will most certainly pay off.
Prepare the subfloor well before fitting the floor – it may be a major factor which will determine the final look of your flooring project and help you avoid unnecessary problems with uneven floor or boards that stick out.
• Solid wood flooring will be a perfect solution in rooms with low humidity and rather stable temperatures. You will be able to re-sand and re-finish it multiple times.
• For rooms with high temperature or humidity level fluctuations it's recommended to pick engineered wood flooring. In rooms where there's no under-floor heating it's advisable to install thick engineered wood flooring boards with thick lamella.
• Always try to choose thick boards, as they will better withstand both high and heavy footfall as compared to thinner ones.
• Ensure that your floor is properly fitted and go DIY only if you're sure that you can handle it.
• Put abrasive and absorbent mats before the entrance to the room.
• Pay attention to floor maintenance. Clean it on a regular basis, as this will help you prevent the floor from being damaged by dirt and grime.
• From time to time, check if there are any loose boards, scratches or dents on the floor surface. If you spot any, take care of them right away to protect the floor from further damage.