You've already finished building your house. Finishing works are the only thing that's left. You've chosen natural wooden floor already at the construction stage. You have put off the decision about the finishing method to be used until a later date. And, well, that date has finally come and you still don't know what to chose – oil or lacquer? Each of those methods has its pros and cons. So, let's consider them in detail.
Advantages of oiled floors
An unquestionable advantage of oiled floors lies in the possibility of spot repair. If the floor is seriously scratched or damaged, what you need to do is only to use abrasive paper to sand the floor and apply the oil again. This helps you save time and money, as you don't need to sand the entire floor.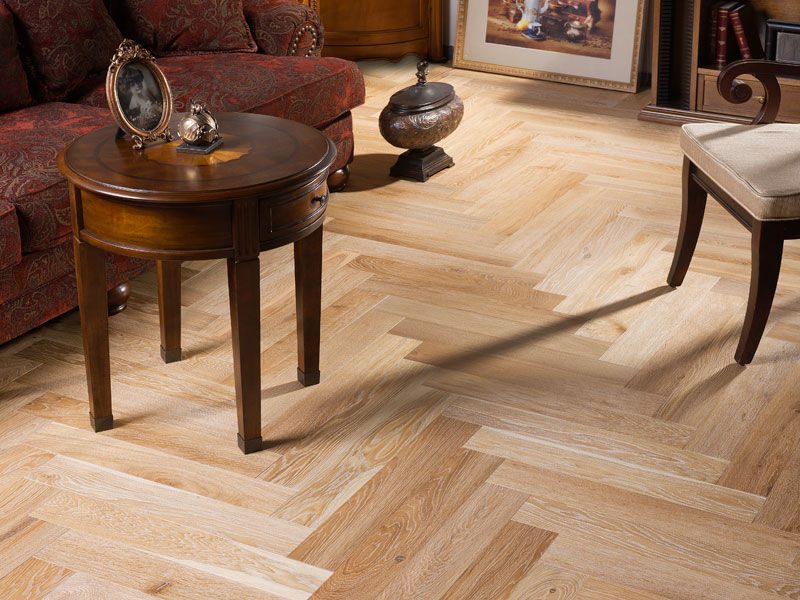 Moreover, oiled floors are antistatic, which, in practice, means that they don't pick up static, and thus don't accumulate dust. The so called-fluff doesn't accumulate on the floor. When walking, you can feel the structure of wood and don't have the impression that you are treading on some kind of plastic material.
Oiled floors are a perfect choice for rooms which are exposed to high traffic and high humidity level, such as kitchens or bathrooms. Oil penetrates deep into the wood structure, it doesn't fill the pores, thanks to which the wood breathes. Unlike lacquered floor, oiled floor is matte and if you apply oil and wax finish, you get a slightly satin finish.
Additionally, oil makes the colour of wood more intense and makes its rings more visible – in this way the floor undergoes natural ageing processes.
Disadvantages of oiled floors
However, oiling your floor is not a perfect solution. We can't skip the disadvantages of that option. Undoubtedly, high maintenance costs are one of them. Such a floor has to be cleaned once a month, or, if the floor has been fitted less than a year ago, even once a fortnight. Furthermore, in order to clean and protect oiled floors, you need to use special products. You should apply oil again each half a year. As we've already mentioned, oil penetrates deep into the wood structure, and thus the surface may wear down faster.
Advantages of lacquered floors
Let's analyse the advantages and disadvantages of a lacquered finish. The first thing you should pay attention to is that this type of floor is easy to maintain. You only need some water and a flat mop. Of course, you need to avoid using too much water, as then the floor will take long to dry. Excessive moisture may lead to the situation in which your floor will curl.
Moreover, in the case of a lacquered floor, you can chose how glossy it will be. The protective coating of the lacquer may be matte, semi-matte or glossy.
Disadvantages of lacquered floors
One of the disadvantages of lacquered floors is the need to sand the entire floor surface in the case where only some areas are damaged or scratched. And then there is a need to leave the rooms concerned unused for about 2 weeks. That is the time you need to have the floor sanded and lacquered again. In addition, lacquered floors are more demanding when it comes to cleaning, as even the slightest dirt particles and the smallest scratches are exposed on that type of floors.
Weighing up pros and cons
We have discussed both advantages and disadvantages of lacquered and oiled floors. Now you only need to decide what is more important for you: oiled floor which is pleasant to the touch, looks nice, but requires some more effort, or lacquered floor which is easy to maintain. One thing is certain – it doesn't matter which option you have chosen, as these are both wooden floors and you will be able to admire them every day.
For advice about the best wood flooring for your home feel free to contact the ESB sales team. Contact us now to request your no hassle no obligation free samples or come down to our North London showroom for a closer look.
Pictures: Pinterest, Floorsync.com