As we've already mentioned here a few times, there are two types of wood flooring, namely solid wood flooring and engineered wood flooring. Solid wood flooring is made of a single piece of timber and is made in the species you chose. On the other hand, engineered wood flooring looks just like solid wood but is, in fact, made by fixing strands, particles, fibres, veneers or boards of wood together with the use of various adhesives or other fixation methods. It is considered very stable and flexible in its use due to higher resistance e.g. to moisture and changing ambient conditions, as compared to solid wood. Just like solid wood, engineered wood flooring is available in various thicknesses (ranging from 15 to 21 mm).
So, if you want to choose the proper thickness of your engineered flooring for your flooring project, you need to answer three crucial questions. These are:
1. What is the level of traffic your floor will need to stand?
As regards traffic, certain areas in your home have to put up with much more traffic as compared to others. Usually, halls, kitchens and living rooms are considered high-traffic areas, while bedrooms and dining rooms are usually referred to as low-traffic areas. If engineered wood flooring is to be laid in a high-traffic area, always go for a thicker board.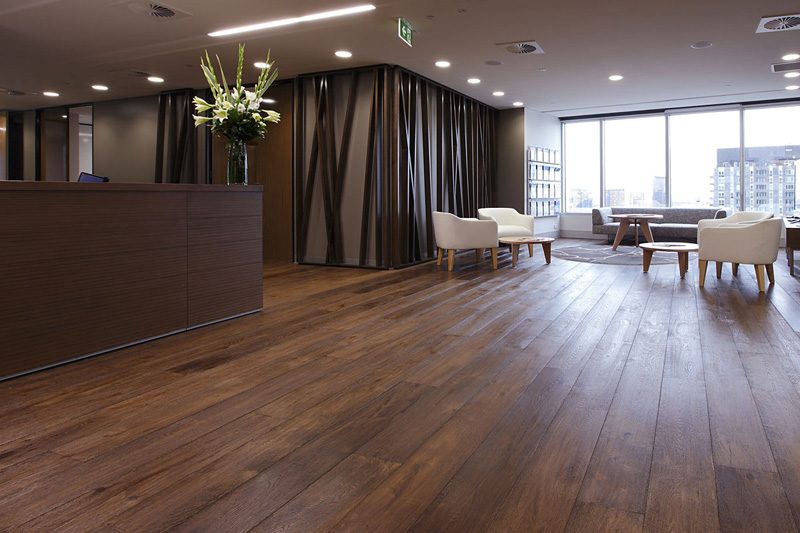 Choosing a thicker board will allow you to re-sand and re-finish the floor more often, which will extend its lifespan and will keep it looking good for even longer. The number of times you can re-sand engineered wood flooring depends on the thickness of the solid wood top layer. Basically, boards which are e.g. 21/6 thick allow for re-sanding up to 7 times during its lifetime. So, by making this choice, you will be able to enjoy a durable flooring solution.
Nevertheless, if you've got under floor heating (UHF), 21/6 thick engineered wood flooring is not a good option for you. On the other hand, a 15/4 thick plank is 15 mm thick and has a 4 mm thick top layer. And it is this 4 mm thick solid oak top layer that determines the number of times your floor can be re-sanded. All in all, in the case of a 15/4 thick engineered board, you will be able re-sand the floor 5 times in its lifespan.
2. Will the floor be installed over UFH?
As far as under-floor heating (UHF) is concerned, if you've got or want to install UHF, remember that a thinner plank will always allow more heat to be transferred faster. However, this, in fact, depends on the manufacturer's instructions. Therefore, the best advice we can give you if you want to install engineered wood flooring over UHF, is to consult your supplier and UHF installer before making the final choice.
3. What is the construction and the condition of the subfloor in the area where the floor is to be laid?
Before deciding on the thickness of engineered flooring for your project, you need to check what your subfloor is made of and how level it is. In the case where the subfloor is uneven, it is recommended to pick a thicker board, which will be better suited to overcoming minor issues as compared to a thin board. Moreover, if the floor is going to be installed directly on joists, you will need to choose at least an 18 mm thick board so as to provide adequate stability.