Growing in popularity, under floor heating is a way of heating homes and offices. It's an efficient way of heating your rooms without radiators. When you choose under- floor heating you do need to choose your flooring carefully. 
Why is under- floor heating together with solid wood flooring a bad idea?
In order to explain, it's best to start right back in the forest. As everyone knows, chips are made from potatoes and solid wood flooring is made from trees. It's simple, right? Yes and no. When trees are out in the forest, they're exposed to sometimes significant temperature and moisture changes and they take it all in their stride. This is because they're still alive and able to respond to their environment by expanding and contracting according to the prevailing conditions. Once trees have been lumbered and processed into wood flooring the need to expand and contract decreases somewhat but it's this that is at the heart of the problem with installing solid wood flooring over under floor heating.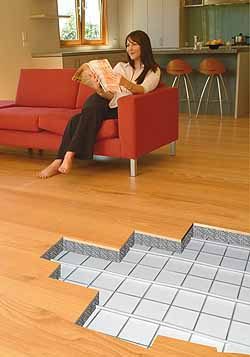 Solid flooring in bathrooms and kitchens
When you fit solid wood flooring, it's best if you fit it in a room where the chances of fluctuations in temperature and moisture are minimal. In other words, bathrooms and kitchens are generally accepted as unsuitable places for solid wood flooring. The reason behind this is that when temperatures and moisture levels increase, solid wood flooring expands, just like a tree would in the forest. Then, when the temperature falls and there is less moisture, the solid wood flooring contracts.  When this happens on a sporadic basis and when the fluctuations are only minimal, solid wood flooring will take no harm. However, when expansion and contraction is extreme and frequent, the solid wood could start to cup and bow and gaps could appear in the floor, allowing draughts to pass and spoiling the look of your floor. These are all the same reasons why fitting solid wood flooring over under-floor heating is a bad idea.
If you consider that the heat that comes from under floor heating needs to pass the floor above it in order to heat the room it's in, it becomes clear that the very nature of solid wood flooring makes it a bad proposition. The rise and fall of the temperatures of your under floor heating will cause solid wood to expand and contract exactly as it does in rooms where there are extreme temperatures. In fact, the constant change in temperature caused by under floor heating is arguably worse than the occasional rises and falls that there'll be in bathrooms and kitchens. Add to this the fact that wood is a natural insulator and you'll see precisely why solid wood flooring and under-floor heating are not good bedfellows. So what should you choose?
There are plenty of flooring options that work well with under-floor heating, but if you want a wood floor, then there is no getting away from the fact that engineered wood flooring is by far the best option. Engineered wood flooring is cleverly constructed so it resists significant expansion and contraction, even in some pretty extreme conditions. This is why it is the wood flooring solution recommended for bathrooms and kitchens, as well as for installation over under-floor heating.
Other wood flooring options for underfloor heating
Engineered wood flooring boards are constructed using layers and layers of ply, which are bonded together to create a solid and stable core board. That core board is then topped off with a solid wood top layer. This method of construction means that engineered wood flooring boards are exceptionally strong and stable. When it comes to choosing the right engineered wood flooring to install over under-floor heating, we generally recommend that the board thickness should be no more than 18mm. Therefore, the top layer should be 5mm or less. These are what we believe to be the maximum thicknesses for heat efficiency. You can further increase the effectiveness of your engineered wood flooring by gluing it down over under-floor heating.
If you'd like help to choose the right floor for underfloor heating, why not get in touch so we can help?