Walnut wood is one of the most desirable materials used in production of wood flooring.

This dark, chocolaty, rich and unique in colour timber is a native species to North America where walnut trees have been grown for hundreds of years. First colonists sent walnut wood to England as early as in 1610. That time it was among the most prized wood widely used to make different types of furniture. Recently it has become more popular again for use in production of cabinets, furniture, fireplaces and wood flooring.
When made in to the floor it will provide variation of colours from pale to dark that presents its ability to mix with a wide range of exterior and interior designs. Its warmth, depth and cosiness can make your home stand out among the rest.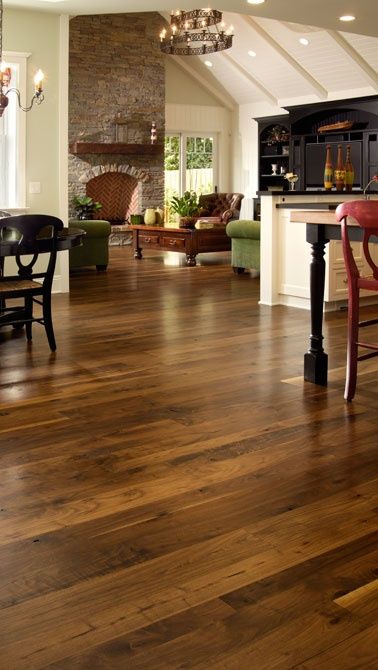 The final colour of walnut flooring will depend upon the finish and stain of the floor you purchase. Walnut planks can be oiled or covered with matt or satin lacquered. Finishes provide additional strength to the surface of the floor. Unfinished boards have a dark brown to almost purplish black colour. It looks great in many interiors from contemporary apartments to country houses. It can be purchased in any width and length of plan size and is also available in parquet patterns like herringbone and chevron.
Walnut hardwood flooring is fairly easy to work with. Sanding and cutting is not very difficult. It usually has a smooth finish and as a soft wood it takes stains and finishes well. This makes it easy to keep clean whether you are accident prone or have children or pets.
The best walnut flooring product are those made with no toxic emission and those not comprising content or transmissions of harmful materials. In addition, good quality floorings are also those that have an eco-approved coating material, no plasticizers and heavy metals.
If you are looking to add warmth and character to your home, then walnut may be the choice for you!
What makes wood flooring a great choice? When compared to other species walnut is a good choice as it can typically take a little more damage and requires less care than other types of wood flooring.
If you have any further questions regarding walnut wood flooring or you are looking for an advice about the best flooring options for your home feel free to contact the ESB sales team. Contact us now to request your no hassle no obligation free samples or come down to our North London showroom for a closer look.
Picture: Pinterest