Underfloor Heating (UFH) has become increasingly popular as a way of heating homes. Some people claim that underfloor heating raises the value of real estate, boosting the interest of potential buyers in your house or flat. Obviously, getting all the necessary heat without the need to have radiators hanging on walls along with all the pipes seems to be an appealing solution.
If you're building a home starting from square one, you can go for under floor heating throughout the house. But, you can also install underfloor heating only in the selected interiors and leave the traditional heating system in the remaining areas of the house. Whichever option you will choose, there are two major types of UHF and, as always, both have their upsides and downsides.
First, you will face the choice: electric or water-based underfloor heating? So let's learn more about those two types of UFH.
Water-based UFH
Water-based underfloor heating is based basically on warm water which passes through a system of pipes installed underneath your floor. It is connected to a boiler or a solar water heating system, and in general is considered a good and efficient heating method, as it's designed to operate effectively with a lower water temperature as compared to traditional radiators.
A major disadvantage of water-based under floor heating is the piping necessary to install and use the entire system. Then, you also need to take into account the skills you need in order to install it and the size of the interior, so as to make it cost effective. As in the case of water-based heating, the piping system is installed deeper and requires more skill and expertise during installation, many people do not go for this option. The problem of depth can be resolved for instance by elevating the floor, but it is often impractical.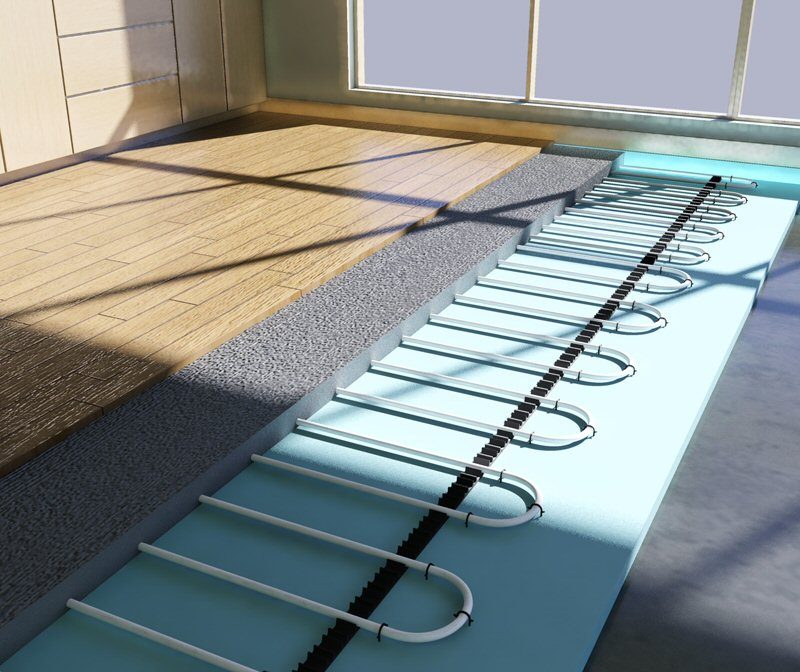 Electric UFH
Electric under floor heating is based on several electric wires which are placed under the floor or within it. Frequently, electric UFH is installed in sheets with loose-fit wiring, which is used to suit tight or inconvenient areas. Usually, it is considered that electric underfloor heating is easier to fit as compared to water-based one – so electric UHF can be handled by an inexperienced DIYer. However, it is a good idea to find an experienced electrician to connect the entire system to the mains. A serious disadvantage of electric UFH is that it is a less cost-efficient heating method as compared to water-based under floor heating.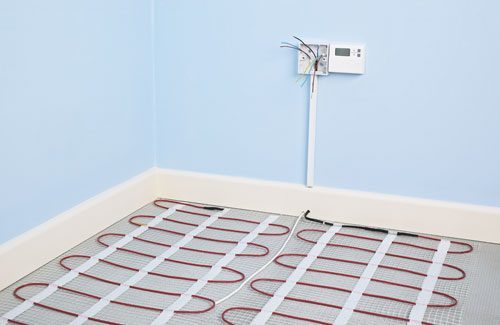 It is important to select the right type of underfloor heating for each project, so we would definitely recommend that you consult a trusted supplier, who will help you make up your mind, guiding you through the entire decision-making process. Yet, having already taken the decision on the type of the heating system, you will need to start thinking about the flooring.
Even though UFH can be installed under tiles, stone as well as some carpets, installing underfloor heating under solid wood floor is definitely not a good option. And the reason for that is extreme expansion and contraction of the wood, which would be caused by direct impact of the heat on the flooring. Therefore, if you want to have underfloor heating in the given room, you need to choose engineered wood flooring. The next thing you need to take into account is the thickness of the flooring. Usually a 15/4 thickness is a safe choice, unless the heating or flooring supplier provides you with different information or recommendations.
As regards installation, if you have opted for electric UFH, it would be best for you to have a floating floor. This is a floor which isn't fixed to the subfloor, i.e. it isn't glued down or nailed to it. Such fitting keeps the floor in the right position, by relying on the weight of the floor. Usually a floating fitting method encompasses the use of an underlay, and it's very important to select an underlay which is compatible with underfloor heating.
But, if you have opted for water-based under floor heating, you can glue the floor down to the screed. While installing an engineered wood floor over water-based UFH, you need to glue it down, which will enable the wood to expand and contract along with temperature fluctuations.
That said, if you have any doubts as to the type of flooring or fitting method you should choose for your flooring project, always consult your flooring supplier.