Whilst technology has developed engineered and laminate flooring resemble solid wood flooring, many people still prefer the warmth, strength and natural beauty of solid wood flooring for their home or workplace.
How is Solid Wood Flooring made?
As the name suggests, solid wood flooring is real wood that comes straight from the tree. Unlike engineered wood flooring, which is constructed from layers, solid wood flooring is the same piece of wood from top to bottom. The boards fit into each other with a tongue and groove system. Just like engineered wood flooring, solid wood flooring is available in different grades (Select, Natural and Rustic) and many different finishes and colours to suit any taste and requirement.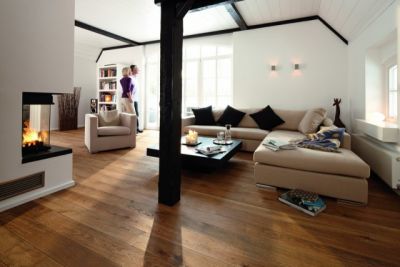 Advantages of Solid Wood Flooring
The nature of solid wood flooring means it is suitable for areas of very high traffic. Because it is generally thicker than engineered wood flooring, it can be re-sanded more times in its lifetime. Engineered flooring, however, does not have a full top layer with the required depth for repeat sanding. Technically solid wood can be sanded down right down to the tongue and groove. Most solid wood flooring has a distinct look mainly because the boards are usually random lengths, shorter pieces of wood and not as wide as most engineered floors.
However solid wood flooring is not suitable for every environment. It is particularly sensitive to high and low temperatures, and cannot be used over under-floor heating or in moist areas such as basements and bathrooms. The installation of solid wood flooring is more involved; it naturally expands and contracts according to the environment, which means certain rules need to be followed when installing. Contact our experts for advice and always only use a professional floor fitter to install your floor. That said, when it is used in the right space and given the care it needs, solid wood flooring adds character and elegance that can't be matched. It is a solid investment for your home; it will last a lifetime, get better with age and will even increase the value of your home.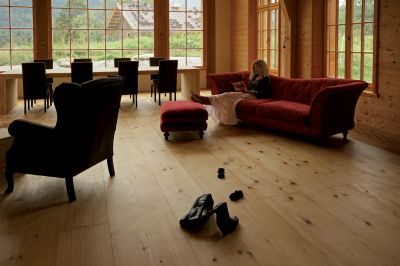 If you have any further questions regarding solid flooring we stock here, at ESB Flooring London showroom or you are looking for an advice about the best wood flooring for your home feel free to contact the ESB sales team. Contact us now to request your no hassle no obligation free samples or come down to our North London showroom for a closer look.
Pictures: Pinterest