Oak is the most popular species of hardwood in Europe. It is highly affordable and widely available. As a very practical wood, it is very easy to stain, so you can surely find a colour you prefer. But surprisingly, many customers do not know that there are two oak species – white oak and red oak, both used in wood flooring manufacture.
Should You Choose Red or White Oak Flooring?
If you are installing new flooring in your home, either white or red oak flooring will work, and your choice will depend on the colour, look or the price.
However, if you are going to install additional flooring, you will want to match the existing floor in order to maintain a consistent look. That way, you can also be sure that the wood will absorb the stain the same way. It is not uncommon that a customer or contractor to mismatch the wood and mixes them both. This will never work as the stain colour and graining will be different.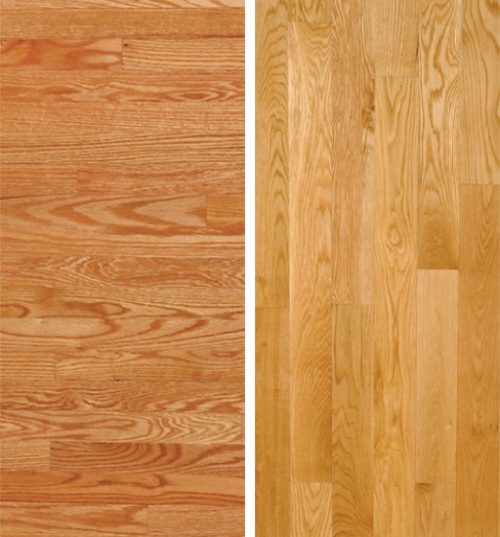 Colour – white oak's heartwood is light brown; flooring boards can have a slight greyish cast and a pinkish tint. Sapwood is white to cream.
Red oak's sapwood and heartwood are similar, with sapwood lighter in colour. Most pieces have a reddish tone and are slightly redder than white oak.
When you stain them, the darker you go, the more visible differences between the two species are. When the stain is light, the red oak has a bit of red undertone in a colour.
Grain – white oak's grain is open with long rays, crotches, burls and swirls. The look is smooth.
Red oak tends to have more porous and stronger graining than white oak flooring.
Some people prefer red oak's graining as it helps to hide dents and scratches; others prefer the less busy look of white oak.
Hardness – red oak flooring is softer than white oak floors. On the Janka scale, red oak is 1290 ad white oak is 1360. But you must remember that despite being softer red oak tends to show scratches a bit less.
Finishing – Red Oak stains very well and demonstrates strong stain contrast. Because it is more porous red oak generally works better for bleached floors.
In white oak, during the finishing procedure, tannins at the surface can react with some liquids and turn green or brown. Apart from that, white oak stains very well and accepts stains evenly.
Compatibility with accessories and stair threads –  Red oak is more common in stair treads, balustrades, saddles and other transitions. If you have oak stair treads already in your home, they are probably red oak, so you should match that. If you need to get new stair treads or other transitions, they are usually more readily available (and hence lower-priced) in red oak.
Price – the price difference between the two is not major. The price of unfinished oak fluctuates weekly as it is a commodity item. There are times when one or another costs more, and the price strongly depends on width and grade.
If you have any further questions regarding red and white oak wood flooring or you are looking for a piece of advice about the best flooring options for your home, feel free to contact the ESB sales team. Contact us now to request your no-hassle, obligation-free samples or come down to our North London showroom for a closer look.