The answer to the question if a wood floor will change its colour after installation is quite straightforward: it largely depends on the ambient conditions in the interior where the wooden floor has been fitted and the type of flooring you've selected. As a natural product wood can change its colour and form depending on atmospheric conditions. That's why you should expect that your wooden floor, especially if it's made of solid wood, can change colour after installation.
Floors and UV
In general, most wood types change colour under the influence of ultraviolet light. This is a similar process as the one affecting our skin – it changes its colour when exposed to sunlight. However, there's one difference – your skin will always get darker when you sunbathe, while in the case of woods it can be either way – some woods can become darker when exposed to sunlight, while others get lighter. There are some products to be used for ultraviolet protection available in specialist stores, but none of them can guarantee full protection against the impact of sunlight.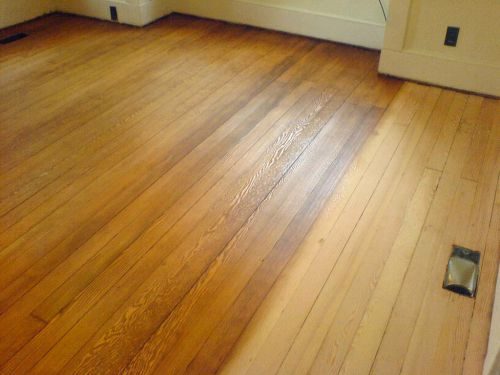 Colour changes in different flooring grades
Solid wood is available in various grades of wood, ranging from prime to rustic. On this scale prime wood is that of top quality, and therefore it is more expensive. And, it's worth noticing that prime grade wood changes colour less as compared to lower grades of wood (e.g. rustic grade).
Dark and light colours
When embarking on a wood flooring project, you will need to think several things through. A very important factor to take into account is your budget. The range of floor types you will be able to choose from will to some extent depend on the budget you've got. Other factors include the choice between solid or engineered wood flooring, the width of the board and obviously the colour of the wood. Over the recent years customers have grown fond of very dark (nearly black) wood floors. Such floors can actually change their colour after installation if you fail to use products that protect them against the impact of ultraviolet light. So, in general, darker shades of wood have a tendency to get lighter. The opposite situation applies to lighter species, including cherry and oak. Those kinds of wood usually tend to become darker when exposed to sunlight. And both processes can be quite annoying.
Protection
If you want to keep the colour of your wood floor unchanged and protect it against too significant colour changes, remember to apply a finish with a sunscreen. It will prevent some of ultraviolet rays from penetrating into the floor and causing colour changes.
There are also several practical tips which will help you protect your floor in this respect. You can, for instance, close the blinds or curtains at times when the sun is very strong. The other helpful solution is installing ultraviolet sunscreens to the windows. That's actually a good solution to protect all wooden objects against colour changes due to exposure sunrays.