Recently, engineered wood flooring has risen in popularity among those homeowners who are striving to get a real wood floor look combined with the benefits of engineered wood flooring solutions. Engineered parquet floor shouldn't be confused with laminate flooring, as the latter is fake wood flooring. Engineered wood flooring is very versatile and available at a lower cost than hardwood floors. Now, you can even choose a parquet style option.
Engineered wood flooring is deemed a versatile flooring option because of its production method and its structure. Engineered wood flooring is a really ingenious flooring option which is not very susceptible to moisture level and temperature fluctuations, and hence it isn't subject to expansion and contraction to the same extent as solid wood flooring. In general, solid wood floors aren't appropriate for use in any area of the home with changing temperature and moisture levels, as such fluctuations in ambient conditions cause expansion and contraction mentioned above, which may, in turn, result in gaps between the boards, warping and other serious types of damage.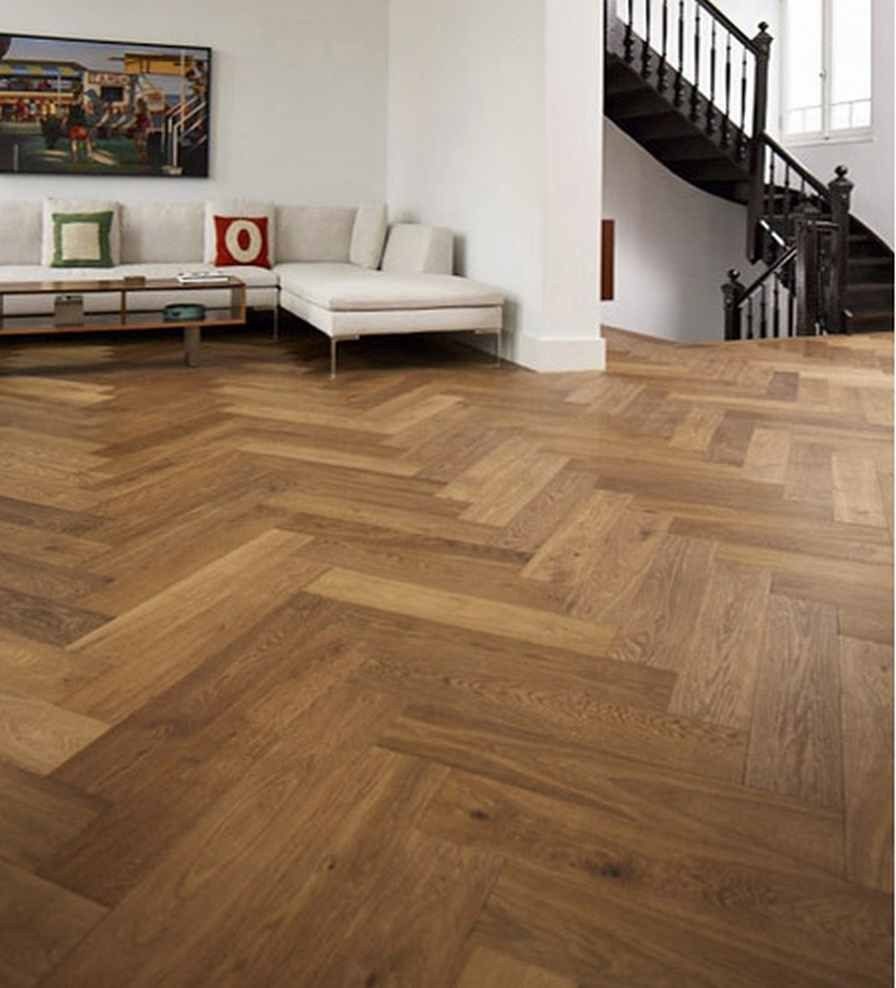 Manufacturing process
The manufacturing process of engineered wood flooring entails adhering several layers of real wood, which make up a durable core board, on which a solid wood top layer is added (usually oak). In this way, the combination of strong plywood and solid, attractive oak gives the engineered wood flooring a look that resembles solid wood, but at the same time has all the benefits related to the fact that it is much stronger and more stable. No matter whether you plump for single, double or triple plank boards, or if you're striving to find a floor that resembles a parquet, you can choose engineered parquet flooring, as it's something different and highly sought after these days.
Short history
Parquetry was born hundreds of years ago, around the mid-17th century, is now a highly popular flooring solution and is widely considered an interior style which has stood the test of time. Parquet flooring is now enjoying a real revival and is now even available in the engineered parquet flooring range – no wonder why.
As we've already pointed out, parquet flooring has a very long history and is very recognisable due to its geometric structure. Laying parquet flooring used to take lots of patience, skill and experience to get it right. Many years ago, you had to take various species and colours of wood and cut them into tiny rectangular or square blocks. Laying parquet flooring was a true art which also required a lot of time – it could last weeks rather than just a few days.
Desired look
Fortunately, now we've got much easier ways to get the desired look. And a choice of our engineered chevron range will give you the parquet look you're striving to achieve without being condemned to bear long weeks of flooring-related works, lasting longer than planned. Our product range covers three chevron options, so regardless of which room in your house the flooring project is meant for, you can get that heritage look there. The top advantage of engineered wood flooring is that it can be fitted even in your bathroom or kitchen. It is also suitable for installation over under-floor heating (UFH). And this means that you can enjoy the parquet look you want, no matter which room needs to be re-floored.
You will be able to make a choice of not only finish and colour but also grade of oak, picking one out of the three options of chevron flooring we've got on our offer. The first one is Select Engineered Chevron Flooring, which is brushed and white-oiled flooring. This is a great choice for anyone who dreams of a light-coloured parquet flooring solution which will look natural. It perfectly lightens up darker rooms, and the oiled finish perfectly stresses the beauty of the oak.
The right finish
If you've already decided to stick to a parquet look and you've made up your mind that you want a brushed floor, but you're still not completely sure if you wish to have an oiled or lacquered finish, as an alternative, this flooring is a great option for you. Go for this alternative, and you will be able to decide on your own what finish you want once the flooring has been fitted. But, if you expect your floor to be exposed to a lot of traffic, you probably should opt for a lacquered finish, which will ensure your flooring withstands all wear and tear. If that's the case, you'll be delighted with this flooring option. The third choice that we offer in our range is perfect for busy households with high traffic footfall, where the flooring is exposed to a lot of sunlight. The UV lacquered finish on this flooring will make it live up to the challenges of the busiest family home as well as those related to direct and strong sunlight without fading.
So these are three wonderful engineered parquet flooring options which can be fitted throughout the house, without the need of spending long weeks cutting blocks of wood and fitting them one by one to achieve the desired final result!