When it comes to fitting wood flooring, there are several options: glue-down, nail-down, staple-down, click system and floating. The fitting method you choose mainly depends on which floor you've chosen, whether you're doing the job on a DIY basis or if you're getting the professionals in and the make-up of your subfloor.
If you're working on a DIY basis, it may well be that you have a preferred option because you feel it is more within your skills set. While that's all good and well, you still need to choose the most appropriate fitting method for your new floor and your existing subfloor. Failure to respect these fundamental elements could mean that your floor ends up damaged or with a reduced life expectancy.
Both nail-down and staple-down fitting methods are suitable for fitting new- solid or engineered -wood flooring, but each is really only recommended if you have a wooden subfloor. Irrespective of whether you have an old wooden floor that will serve as the subfloor of your new flooring, or if you have laid plywood over the original floor, you will be able to make the choice between nails or staples as the fitting method for your new floor. One thing to bear in mind if you are nailing or stapling your new floor over an old floor is to make sure that you lay the new boards perpendicular to the old boards (i.e. in a crisscross fashion), otherwise the new floor risks getting damaged due to it not being sufficiently stable. If you've fitted plywood over your old floor, you'll have complete freedom of which direction you lay your boards, because the subfloor should be perfectly stable.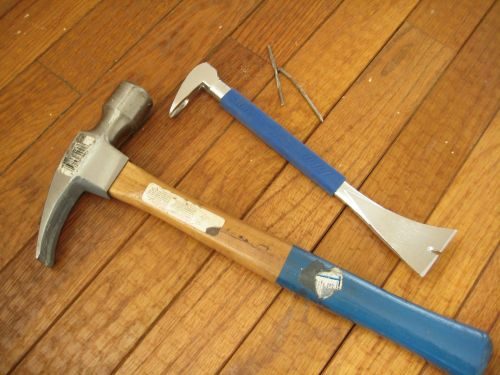 Whether you nail down your floor or staple it, unless there is good reason not to, you should start by laying the first board at the edge of your room, working methodically towards the opposite side. No matter whether you're nailing or stapling, with a tongue and groove floor, the ideal option is to use the hidden fixing technique whereby you insert the nails or staples into the tongue of the fitted board before you tap the next board into place.
As you'd imagine, when nailing your floor into place, all you need is the right nails for the flooring you've chosen, together with a hammer. If you decide to go the staple route, you'll not only need the right size of staple, but also a staple gun that's powerful enough to drive your chosen staples through the tongue of your plank into the wooden subfloor. It's important when choosing your staples that you choose a long enough option to ensure a stable fix to the subfloor, otherwise you could find yourself having to fix your floor before you know it.
When it comes to deciding whether nailing or stapling is going to be your best option, you might be tempted to automatically opt for the speed and convenience of stapling, but what do the experts have to say?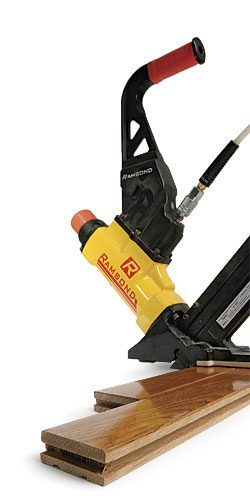 There's no getting away from the fact that nailing down hardwood flooring has stood the test of time, whereas stapling is a relatively recent method. Hardwood flooring installers have been nailing floors down for generations and many accept this as the way things should be. People who have been fitting floors for years argue that there's little to be gained time-wise by using staples.When it comes to getting a good fix on a nail down installation, it's important to use a nice long nail to make sure it penetrates deep enough into your subfloor, allowing for a bit of movement without the risk of damage. Pricewise, there's little difference between the two. But all of these views are those of the pros.
When it comes to DIY, there's no doubt that stapling is preferred. With a pneumatic staple gun in hand and the right staples in the barrel, a DIYer will be able to get their pace up to pretty much that of a professional using nails, so it's easy to see the attraction. So how do you choose?
Here are our top tips for helping you decide between the two methods:
1. Engineered wood flooring or thinner solid wood flooring is better suited to stapling than thicker, harder wood options.
2. Thick engineered and solid wood flooring and species of flooring that are particularly hard are undoubtedly best nailed down.
3. If you have a hammer and nails, you're ready for the nail down option because nailing doesn't call for any special tools that you'll either have to buy or hire.
4. Some experts suggest that nailing results in a more 'snug' fit, which means that changes in temperature and humidity are less likely to result in long term damage.
5. If in doubt, opt for the safest long-term solution.
If you have any further questions regarding wood flooring installation or you are looking for an advice about the best flooring options for your home feel free to contact the ESB sales team. Contact us now to request your no hassle no obligation free samples or come down to our North London showroom for a closer look.
Pictures: Pinterest