Regardless of the type of wood flooring you've chosen for your flat or house, one of the issues that may be challenging is how to install it around corners and do everything the right way. Having chosen solid or engineered wood flooring and having decided to do it yourself, you will probably manage to fit the wooden flooring throughout the main part of the room rather quickly. But, you need to remember that the devil is in the detail and the end result depends largely on the finishing touches.
Both in the case of solid and engineered wood flooring, installing boards around corners requires planning, skill and, most of all, patience. When it comes to new houses, corners will most probably be exactly 90-degree, which makes the whole process much easier. However, in old houses, or if you're dealing with a renovation project, corners will probably not be that even.
Inside and outside corners
The first, crucial thing is for you to remember that the guidelines referring to inside corners and outside corners are different. Moreover, always establish whether the wood is going to run alongside the corner or if it's going to go around it. Additionally, if not all of the corners are neat 90-degrees, it's a fundamental thing to take special care when deciding on how you are going to install the floor around a given corner.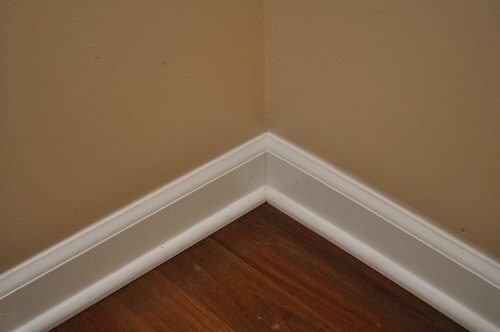 Having established whether you're dealing with an inside or an outside corner, whether the board would run along or around the corner and having determined the angle of the corner, you can start planning the whole process.
If you're taking the flooring through a passage way and need to butt two sections of wood flooring together, it's recommended to make two 90 degree cuts to envelop the corner, allowing the boards to run in the same direction in each of the rooms. The other possibility is to mitre the wood and butt it around the corner at 45 degree angles.
Angles other than 90 degrees
If you're dealing with angles that are not exactly 90 degrees, try making a paper template of the given corner which you will need to cut. Thanks to such a paper template you will be able to mark the exact shape on the board and only then cut the wood. When preparing the paper template, tape the paper to the original floor, so as to prevent it from slipping when drawing the shape. When you're sure that you have precisely marked the corner, remove the paper; make cuts in the wood and then double check that it neatly fits around the given corner. By sticking to those tips, it will be much easier for you to install wooden floors around corners.