These days, if you want to attract clients, you need to stand out among your competitors. This applies among others to pub owners, who are striving to be different from the ordinary. It has become apparent that due to the economic situation in the UK and in other European countries people do not visit pubs or restaurants as often as they used to. Therefore, as a pub owner you need to try to attract a higher number of visitors. This can be achieved by creating a special climate of the place, for instance through attractive and extraordinary interior design. Therefore, many of you may want to think about a re-look or a renovation for your pub and flooring will certainly be one of the items on your wish list.
When we're talking about pubs, bars, restaurants or shops, wood flooring is not only a really stylish choice – it is also a choice of a practical and hardwearing flooring option as well. However, if you want the flooring to stands up to the test of time and look really good as long as you hope it will, the first thing you should focus on is planning and making all the right choices.

In this post, we would like to elaborate on that and help you take the right decisions, which will prove beneficial in the future. Basically, there are two types of wood flooring: solid and engineered.  A plank of solid wood is milled from a single piece of timber and is made of the kind of wood of your choice, while engineered wood flooring, also called composite wood flooring, is created by binding or fixing strands, particles, fibres, veneers or boards of wood together with the use of adhesives or other methods of fixation to create a really stable base for a top layer made of solid wood, which is professionally also called lamella. And it is due to this solid wood lamella that engineered wood flooring looks so much like solid wood (but remember this type of wood flooring has different properties as compared to solid wood).
Solid wood flooring for pubs and restaurants
As far as pubs, bars or restaurants are concerned, in our opinion, solid wood flooring has a significant advantage over engineered wood flooring in several respects. Firstly, it can be sanded and refinished multiple times, which cannot be said in the case of engineered wood flooring. But, remember that engineered wood flooring with a thick top layer can also stand up to several sandings.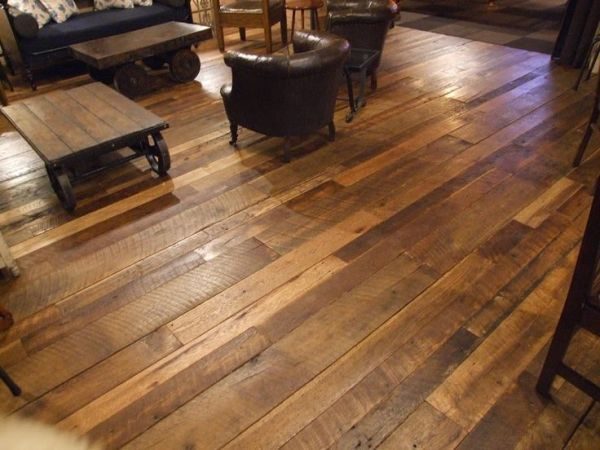 Underfloor heating
A 21/6 wood board or something similar, whereby the board is 21mm thick and the solid wood top layer is 6mm thick, will usually allow up to 5-6 sandings during its lifetime. However, if there's an under-floor heating in your pub, this type of board isn't meant for you. If you have or are going to install under-floor heating in your bar or pub, choose engineered wood floor with a board that is 15/4 thick, which will stand up to 4 sandings and is the right match for under-floor heating. That said, remember that solid wood flooring isn't quite right for installation over under-floor heating. So, at the planning stage it's very important to take that into account when weighing down all the pros and cons of each option.
Durability of the floor for restaurants and pubs
If you have made up your mind that engineered wood flooring is the right choice for your place, or decided that solid wood flooring will be a better option, it's high time to decide on the species of wood and the finish of your flooring. When selecting the species of wood for a pub, consider the durability of different kinds of wood available on the market, as durability will help your floor stand up to high footfall.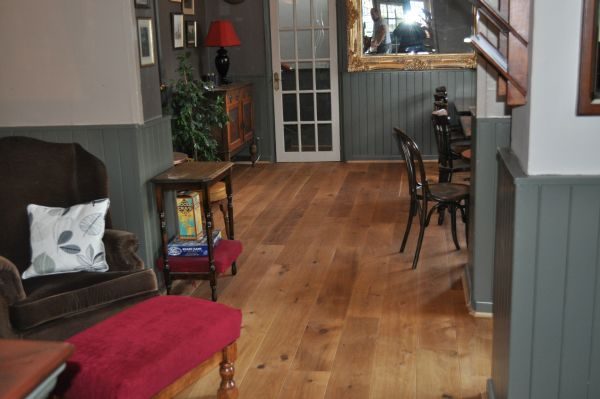 As far as durability is concerned, the types of wood range from oak, through to teak and walnut. Usually teak and walnut, often known as cumaru and ipe respectively, are considered more durable and hard-wearing options, and are thus more expensive than oak. To measure wood durability a special technique called the Janka Ball Hardness Test is used. This test consists in measuring the force which is needed to embed half the diameter of a steel ball of over 1 cm into a piece of wood. The results range from the high 00's into the thousands. In the case of oak and similar wood products, the Janka Ball Hardness Test is usually around the 1,300 mark, while cumaru and ipe score considerably higher, i.e. at around 3000. It's certainly worth asking your wood flooring supplier about that, before making a final decision.
Finish of the floor
And last, but not least, you will need to think about the finish you'd like for your pub flooring. There are many different finishes available on the market, ranging from oil to various varnishes. The choice of the finish is highly up to you and depends on the final look you want to achieve. Varnishes are usually shiny, even the ones with matt finish, while oils look natural and make the wood look better and more stylish without adding shine. However, at this point do think about durability and the possibility of repairing the flooring if need be.
If you have any doubts or struggle with choosing the best option for your pub or bar, always consult your flooring supplier for advice and any additional information you may need.