As you've already picked and installed a new wooden floor of your dreams or renovated your old one, stains are the worst thing that can happen. You often end up searching for a proper solution and face some difficult decisions related to removing stains from hardwood floors. But, don't be devastated. In this post, we'll try to help you, by presenting you with the most convenient methods of removing stains from hardwood floors.
Type Of Staines
There are various type of stains, depending on how serious they are. Moreover, stains differ in terms of how easy or difficult it is to get rid of them. Sometimes it's not a big deal, while sometimes you may need to develop a special strategy to effectively remove such a stain from the floor without damaging it.
First of all, think about the condition of the floor, determine the type of a stain you want to remove and consider how long the stain has been there. Having evaluated all those aspects, you can decide on the proper solution to resolve the problem you're faced with.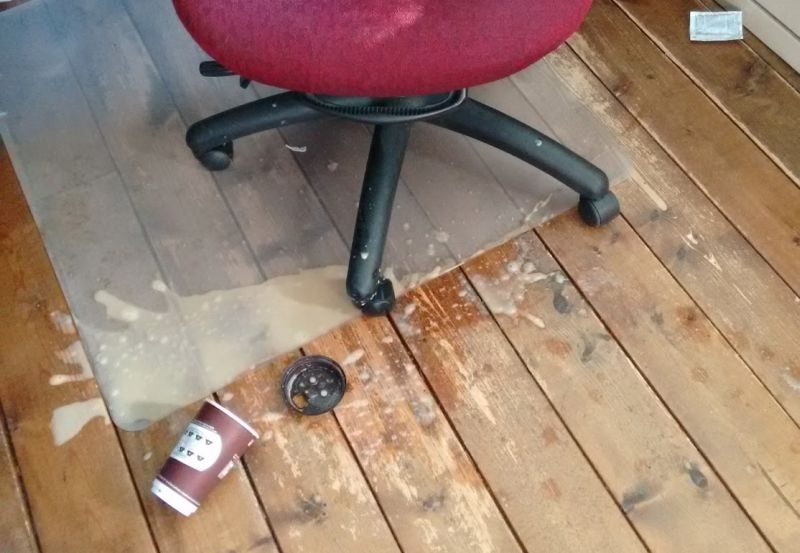 How To Remove Stains?
In general, always bear in mind that the faster you can clean any substances spilled on the floor, the lower the probability that a really serious stain develops on the floor. But, if you spot a stain on the floor, it's good to be able to precisely determine what it was caused by, as then you will be able to tackle the problem more effectively.
For instance, stains, like sweets, alcohol, nail polish, or non-greasy foods, can be removed using warm water with a right cleaner for wooden floors, but it's best to act really fast – then the chances for a complete success in the fight against stains are really high. But, in the case of oily or greasy stains caused by ink, food or dye, it's recommended to use cold water and a cleaner with ammonia. Should this turn out ineffective, consider taking more serious measures.
If a floor which is quite new and has a good sealer on it, it's most probable that the stain will not be serious, affecting only the surface, thus making it easier for you to handle it.
Surface-deep stains usually require the use of a chemical based floor cleaner – it should do the job. In the case of floors that are a bit older and thus slightly less protected, if everything else turns ineffective, you may need to sand the stain and recoat the floor.
If you spot many stains on the floor, you may use it as a good opportunity to sand back the entire floor and re-seal it. It will help you avoid staining it in the future and the floor will be additionally protected.
Should you need assistance or guidance when planning your project, the EFB Flooring team is here for you. Call us and get professional support and advice on all issues related to various flooring solutions and flooring installation methods.