Selecting the right kitchen flooring is vital to ensure you end up with the right function and aesthetics for this key room in the home. With so many kitchen flooring types on the market, the challenge can be to find the one that's going to best suit your individual circumstances. Factors such as budget, eco-friendliness and degree of maintenance required can all have an impact on the best flooring for kitchen renovations or refurbishment. Here we take a look at what type of flooring is best for kitchen floors. We include consideration of the different options available, as well as take a look at the best wearing flooring choices. Read on to discover how modern kitchen flooring can deliver stunning visual appeal at the same time as scoring highly on durability, low maintenance and excellent function.
Engineered 3-ply, laminate and multi-ply floors
The days when kitchen flooring options were either tiles or vinyl are long gone. Engineered 3-ply, laminate or related engineered hardwood floors give all the beauty of natural luxury kitchen flooring at the same time as being economical and low maintenance. Engineered 3-ply consists of a strip of real wood, a few millimetres thick, which is glued onto additional layers of plywood. The plywood is treated to provide a degree of water resistance, as well as provide added springiness to the flooring. Laminate modern kitchen flooring features a similar construction, but a photograph of wood is used to provide the desired look. Both engineered and laminate luxury kitchen flooring features a tough, transparent top coat that preserves the floor and makes maintenance easier.
Pros and cons of engineered wood flooring
Engineered flooring is a popular option because it looks fantastic! Ideal for a kitchen and flooring design that's modern or rustic, the products have the look of real wood without the maintenance problems. Engineered wood is an economical choice that's easy to install. Suitable for almost any type of sub-surface, it also has a good degree of thermal and acoustic insulation. Practical and attractive, it's some of the best flooring for kitchen refurbishments on the market.
There aren't many negatives to investing in engineered flooring: obviously the look is natural wood, so if you're looking for vibrant colours, vinyl would be a better choice. In addition, If the top, protective layer gets scratched (common with laminate flooring), the layer beneath rapidly becomes stained and marked.
When it comes to what type of flooring is best for kitchen use, engineered wood flooring works well in most homes.
Tiles: hard-wearing kitchen flooring
Kitchen flooring constructed from tiles is a cost-effective option that looks amazing. An economical choice, tiles come in a range of kitchen and flooring design options: no matter what look you want to achieve, there's a tile pattern and palette that will work. Tiles can be chosen either to give colour contrasts, or to look like a continuous floor surface. Made from vinyl, stone, clay or porcelain, tiles are best installed by a professional for a good end result. They are also great options for disguising uneven floors, or covering smaller, more awkwardly shaped floor spaces. Correctly installed, they provide a beautiful finish to almost any kitchen.
Why opt for modern kitchen flooring tiles?
Tiles are
cost-effective, enormously versatile and suitable for most kitchens
. Once in place, they are usually easy to maintain and durable. Porcelain or clay tiles are prone to cracking if heavy objects are dropped on them. Stone tiles require regular maintenance to prevent discolouration. Stone tiles can also be cold underfoot and are extremely unyielding in case of a fall or a dropped piece of crockery! When considering the best flooring for kitchen areas, vinyl tiles offer excellent acoustic and thermal insulation, as well as longevity and plenty of visual appeal. If you're not sure which kitchen flooring is going to be best, get in touch and our experienced team will be happy to help.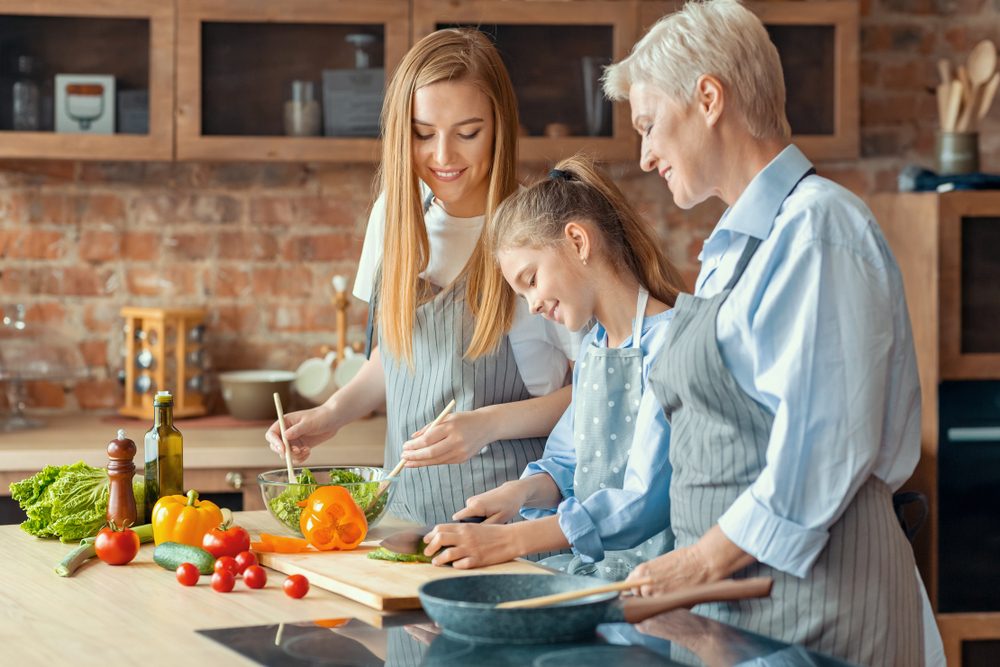 Vinyl flooring: hard-wearing kitchen flooring that looks amazing
Vinyl has come a long way in recent years! One of the kitchen flooring types that's both highly functional and attractive, there are several different types available. Appearance wise, vinyl can be designed to provide anything from a natural wood or stone look through to vivid colours and patterns. One of the best wearing flooring choices on the market, it's impervious to stains, easy to maintain and very tough. Many people like the way it feels warmer underfoot than stone or concrete. Vinyl offers good acoustic insulation and a flexible surface that's softer than ceramic or clay tiles. Now considered a luxury kitchen flooring, it can be installed over almost any sub-surface. Ideal for covering uneven or tricky floors, vinyl can be cut to fit any shape or size of kitchen.
Possibly the most versatile of kitchen flooring types, vinyl has many benefits. New generations of vinyl are made in an eco-friendly way, and even have the potential to be recycled. If you're looking for hard-wearing kitchen flooring that looks stunning, vinyl is hard to beat.
High-quality kitchen and flooring design offers excellent value
Because of the heavy traffic which most kitchens experience, it's worth spending a little more on your kitchen flooring to ensure you end up with one of the kitchen flooring types that stays looking good for longer. Whilst there isn't a definitive answer to the question: what type of flooring is best for kitchen makeovers, quality is a key consideration. When it comes to flooring, you usually get what you pay for. Investing in the very best quality flooring now will save inconvenience and disappointment in the future.
At ESB flooring, we have some of the best wearing flooring options on the market. Our selection includes flooring from top brands with a reputation for excellence. If you want comfortable, functional flooring that's manufactured to last, our products will suit. With hundreds of different designs on offer, there's flooring that works for any kitchen design. A wide selection of colours, patterns and materials ensures plenty of choice.