When embarking on a new flooring project, you need to make a range of different choices, including the choice of a sub-floor. This is one of the most important decisions, which will determine the final result. A well-installed sub-floor will keep the floor level and well-insulated. Moreover, it will help prevent a squeaky floor.
You can fit your new wood flooring on many different types of sub-floor. But, when laying wood flooring, be it solid or engineered, you need to bear in mind several things as far as sub-floor is concerned.
Keep the subfloor clean
The key aspect is that the sub-floor over which you'll fit the wood flooring needs to be dry and needs to remain dry throughout different seasons. Besides, the sub-floor ought to be stable and level. Installing new quality wood flooring over an unstable sub-floor is pointless – by doing so, you'll basically spoil the end result. Then again, always ensure that the sub-floor is clean, free of any debris and dust. Only then you can move on to actually laying the new floor. And in the case of a glue-down installation method, you need to first carefully clean the sub-floor of any dirt, glue or paint. Usually, you can remove them through light sanding.
Concrete or wood?
Wood and concrete are among the most popular sub-floor types. Each of them has its own characteristics. A wooden sub-floor offers you an option to fit the new flooring with the use of a glue-down or a nail-down method or, alternatively, go for a floating installation. Please note that the nail-down installation method is not recommended in the case of a concrete sub-floor.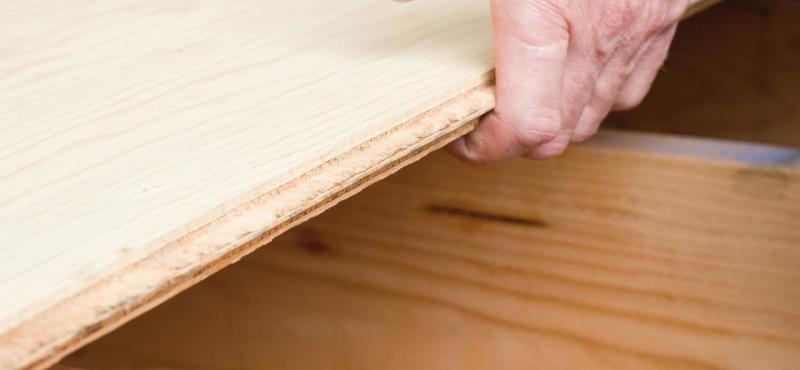 And yet wooden sub-floors can either be made up of old wooden floor boards or plywood. Moreover, there are also OSB (oriented stran board) sub-floors, also known as flakeboards, sterling boards or aspenite. No matter, which option applies to you, make sure to even out the surface of your sub-floor, removing any protruding screws or nails ahead of the installation process. Fix down any loose boards you come across and make sure to get rid of any high points – simply sanding them away. Moreover, level out any low points – to do this you can use a specialist sub-floor levelling compound. By following the above advice you will prevent your floor from moving and squeaking.
Make sure it is dry
Additionally, make sure a concrete sub-floor, especially if recently laid, has been thoroughly dried out prior to the installation of new wood flooring. If you're investing a considerable amount of money in new wood flooring, no matter if solid or engineered, ensure you won't spoil the whole project, by installing it over a damp sub-floor. Should there be a need to introduce a damp proof underlay, do so to avoid future problems related to dampness.
There are also other types of sub-floor, such as particle board and vinyl. Furthermore, you can also fit wood flooring directly over beams and joists. Each of these options has its own specific characteristics when it comes to the wood floor installation.
All in all, should you have any doubt or questions concerning sub-floors or any other flooring-related issues, it's always advisable to contact your wood flooring supplier.