Surprisingly many people struggle with choosing a right colour for their wood flooring.
No wonder – there are so many different colours out there in the market then I'm sure there is product to match even wildest of designer ideas.
While pushing the boundaries of traditional style and being creative are always welcome in interior design industry it is still very important to follow certain rules and guidelines in order to avoid some embarrassing flooring fashion mistakes.
Below you will find few simple but very powerful tips to keep in mind when deciding on wood flooring colour for your interior.
Tips
– room size, texture and colour of walls, ceiling height and colour of furniture should be your first considerations when choosing a colour for your floor. In order to final design being successful the colours must complement each other,
– new floors must match existing wood floors to maintain the integrity and the flow of the home,
– avoid using dark floors in small rooms with dark walls – it will make room even more dense and depressing (see how the dark wood floors are made)
– darker colours bring out the warmth in other elements of decor,
– in the rooms with low ceiling go for light coloured floors and walls,
– black and dark tones are a popular choice for artists' studios, modern and chic interiors
– natural unstained wood or traditional shades of brown are perfect if you prefer classic look,
– deep and bold colours (various shades of red: Jatoba or oak and ash stained in similar colours) are perfect for commercial interiors, offices and other large spaces where flooring becomes central element of decor,
– warm golden, browns and red wood tones will make your room cosy,
– white and grey floors will make your room spacious,
– go for natural coloured wood floors in matt finishes if ability to conceal small dents and scratches is a must,
– remember that colour must complement each other and contrast. Floor cannot have identical colour as your furniture and walls,
– take advantage of flooring samples. While photos of interiors and virtual room planner can give you a general idea of what end result might be, there is no better way of determining the floor colour than seeing the sample on-site in natural light.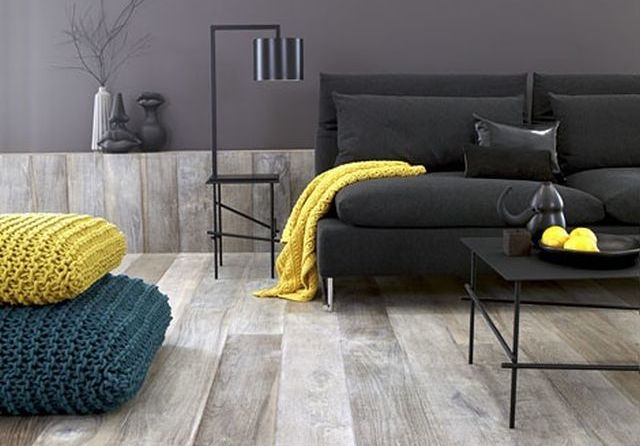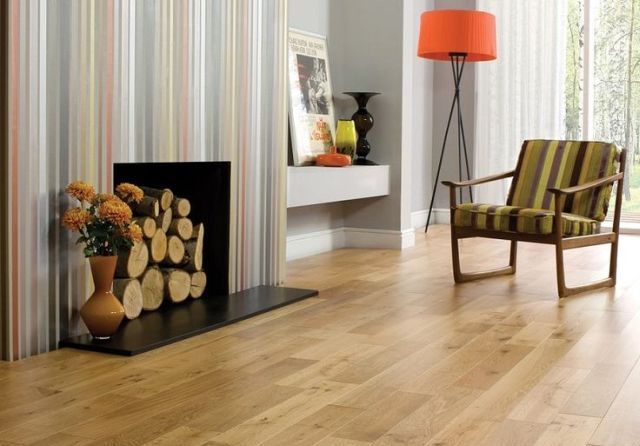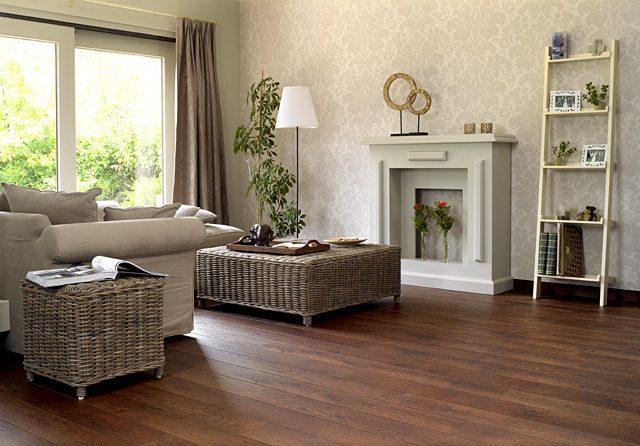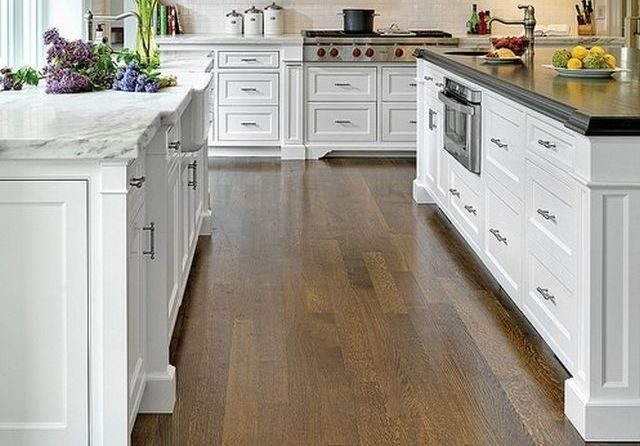 Samples
Sampling is almost final step of purchasing process and we also have few tips
When visiting your local wood flooring showroom take along a cabinet wood sample,  a furniture throw pillow or paint chip from the room you'll be installing wood floors.
Choose floor samples that complement the items you brought to the showroom.
Remember about the rule above – for example if your biggest room furniture is a light oak colour with a dark grain, you can select a dark floor colour to enhance the furniture.
Select no more than three wood floor samples to take home. More than that can confuse your final decision rather than helping narrow it down.
Look at your samples on-site in natural light as well in the artificial night light.
Check how they look placed against the woodwork, furniture, adjoining floors  and walls. Leave the room and come back after few minutes. Repeat it next day. This is a good barometer on how you'll feel about entire room being covered in that particular colour.
Finally eliminate your least favourite of the three samples and continue your exercises with the remaining two until you decide which is the winner.
Infographic
If you would like to find out more about colour schemes for your hous you might find this infographic interesting:

For advice about the best wood flooring for your home feel free to contact the ESB sales team. Contact us now to request your no hassle no obligation free samples or come down to our North London showroom for a closer look.