Thinking about having wood flooring installed in your bathroom? You should remember that humidity is a factor that needs to be taken into account in such a case. That's the only problem with wood flooring in a bathroom – if it were not for humidity, everything would be simple. Having that in mind, if you take right decisions and use proper precautionary measures, wood flooring in a bathroom can be a perfect solution.
Engineered or Solid Wood Flooring?
If wood flooring is your choice for a bathroom or bathrooms in your house, our advice is to install engineered flooring, instead of solid wood flooring. Read on to learn why. Solid wood flooring, is milled from a single piece of timber, while engineered wood flooring is composed of two or more layers of wood in the form of a plank. When considering the structure of both of those flooring types, engineered wood flooring is more suitable for bathrooms, as it's more resistant to high humidity levels.
Wood Flooring Thickness
The next thing that you will need to consider is the thickness of engineered wood flooring that will be installed in your bathroom. Go for boards whose thickness doesn't exceed 14 or 15 mm, as then the flooring is more flexible and thus stronger and more stable.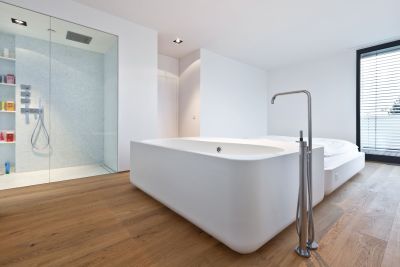 Get The Wood Flooring Finish Right
As your wood floor is already installed, chose the right finish for it. You have two options to chose from, namely lacquer and hard wax oil. The application of lacquer will render the wood flooring in your bathroom to a large extent waterproof. Moreover, it will make it time and cost-effective as regards maintenance, because lacquer creates a protective layer and makes the floor resistant to damage and moisture.
Lacquers are artificial products and are usually available in satin or matt finish. The choice you'll make depends on your preferences. Satin lacquer is slightly shiny unlike matt lacquer. The latter one has a considerable advantage over the former one, as the wood covered with a matt finish retains its natural look.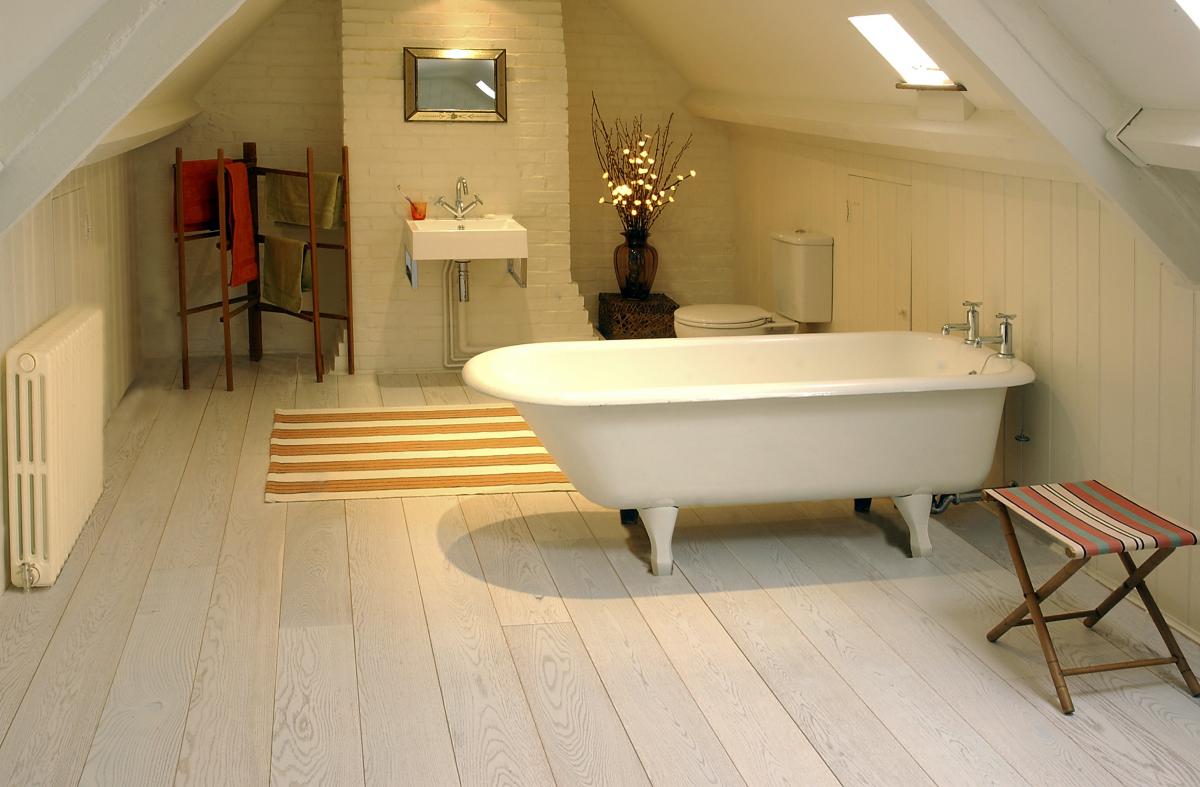 On the other hand, hard wax oil is an entirely natural product that is applied to help you protect wood flooring in your bathroom against damage resulting from high humidity levels. Hard wax oil is absorbed deep into the wood structure, thus, offering a high level of protection against moisture, damage or dirt. Moreover, it's a good option for nature lovers, as it's environmentally-friendly.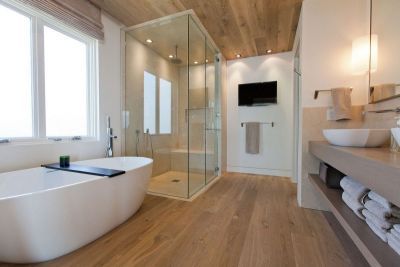 Installation Tips
So as you've chosen the proper flooring and finish for your bathroom, we'd like to give you one last tip that is worth remembering. When fitting the floor, make sure to leave a 20 mm expansion gap between the planks and the walls. Such installation method makes it possible for the wood to expand and contract depending on moisture level fluctuations. You don't need to worry that it will look bad, as the gap will most probably be covered with skirting boards.
If you have a further questions regarding best wood flooring for your bathroom or you are looking for an advice about the best wood flooring for your home feel free to contact the ESB sales team. Contact us now to request your no hassle no obligation free samples or come down to our North London showroom for a closer look.