If you want to restore your hardwood floor and make it look fresh and new again – think about a good, deep steam cleaning. However, first be advised that before thinking about steam cleaning for your wooden floor, you need to ensure that the floor is well sealed and that you've picked the proper steam cleaner to complete this task. It's never recommended to get excessive amount of water or steam on wood floors. And when buying a steam cleaner, pay attention to choose one that is right for wooden floors. Then, before getting down to work, sweep the floor ensuring that there's no dust and grit there, or else you can damage the floor during the steam cleaning process. Steam cleaning will help you get rid of dirt, food remains, allergens and bacteria, it will also remove mildew and eliminate viruses. As you see, it's a perfect way to keep your floor really clean and free of any undesirable substances.
How to choose the right steam cleaner?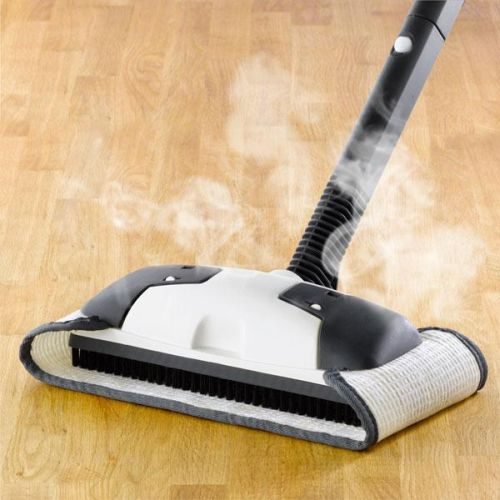 When buying a steam cleaner, pay attention to the design of the mop: check if it suits your strength and size. Moreover, consider the volume of the water storage container and check how convenient it is to fill and refill. You may also want to get a steam cleaner which uses only water or one which can use water with the addition of a cleaning product. When thinking about the costs, you can also decide if you want a device with a reusable or a disposable filter (each option has its advantages and disadvantages).
There's a whole array of various steam cleaners available on the market, some using only water, others using water with a chemical product. In most cases, the process of steam cleaning of wooden floors is very effective with the use of water alone. However, if you want to clean the floor very thoroughly, always pay attention to choose the right product which is suitable for your floor and your steam cleaner. Should you have any doubts, the supplier of your floor will most certainly offer you some professional advice. As you get down to work, move through the given interior, by starting in a corner and moving from one side to the other.
If your floor is considerably old and is already worn, steam cleaning is not a good option for you. This cleaning process gets moisture into the floor. It can stay in the wood, which will warp. And last but not least, there's one more thing you should focus on when steam cleaning a wooden floor, namely you should do it only periodically, under no circumstances as often as once a week.