If a full loft conversion does not appeal, you can still maximise your loft's potential by laying down a floor. There are several options open to you whenever you are laying a floor in a loft. These include raised loft flooring and laying loft boards straight onto joists. In this article, we will look at some of the techniques, tools, and materials you will need. We will also cover loft boarding regulations and other safety aspects you need to be aware of.
Why lay a floor in a loft?
There are plenty of reasons to lay a floor in a loft. Many people do not make use of their loft space at all, except for maybe storing their Christmas decorations. As a result, most attic floors are made up of joists and insulation. By flooring an attic over insulation, you free up a lot more space. This makes it a far more efficient place for storing items you cannot bear to throw out. Another advantage is ease of access. If you have inset lights in your upstairs ceilings, they can often only be reached via the attic. A raised loft flooring installed over loft flooring legs can make it a simple task to reach them.
How difficult a job is it?
Whether you are securing loft boards straight onto joists or using loft flooring legs to install raised loft flooring, it's not too tricky. The hardest part is flooring an attic over insulation in such tight confines. By following our safety advice an adhering to the relevant loft boarding regulations, you should be fine. If in doubt, consider hiring a professional to handle it.
What do I need?
Flooring an attic over insulation does not require much in the way of tools. Before you start make sure you have the following:
Electric drill
Electric screwdriver
Hammer
Jigsaw and workbench (unless the boards are already cut to size)
Loft boards
Pencil
Screws – 38mm or 40mm
Tape measure
Safety first
Installing loft boards, straight onto joists or otherwise, creates a dusty, splintery work environment. Make sure you are wearing overalls, gloves, eye protection, and a dust mask. For ease of movement, trainers are a better choice in a cramped loft space than heavy workers' boots.
Also, using one of your boards, make yourself a work platform by laying it across your ceiling joists. Far safer – not to mention comfortable – than just trying to keep your balance during the job.
1. Measure and stock up
Before you buy your boards, measure the area you are intending to cover. There are two standard sizes of board – 320mm x 1220mm and 600mm x 2400mm. The former is available in most DIY stores, while you may have to approach a local timber merchant for the latter. Whichever board you use, give yourself a 20% margin of error on top of your mapped-out area.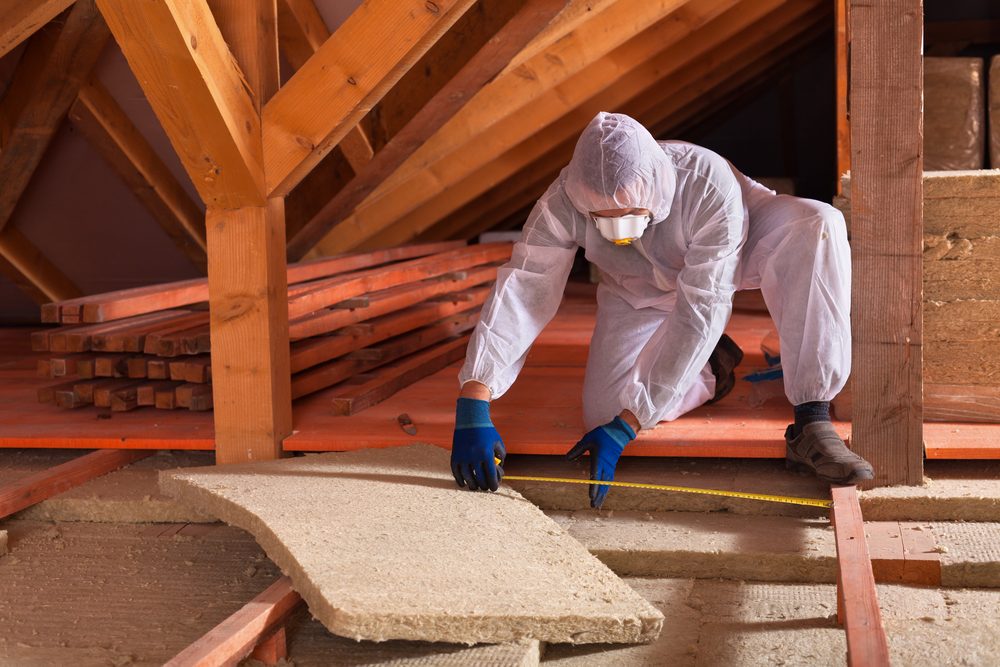 2. Your insulation situation
Before you even think about laying your boards, you need to check out how deep your insulation is. Current loft boarding regulations recommend your insulation blanket be a minimum of 270mm in thickness. The problem here is that most attic joists are rarely more than 100mm deep, so where does this leave you?
In theory, you can still attach your attic boards directly onto the joists. However, this is most definitely not recommended. Squashing your insultation into the joist cavity to lay your floor is false economy on several levels. It reduces its effectiveness, resulting in greater heat loss and higher heating bills. You may also cause interstitial condensation, where moisture from temperature changes condenses beneath the boards. This then drips as water into the cavity, causing damp and potential leaks in the room below. Finally, if you intend to sell your property, any reputable surveyor would inform you that it fails to meet loft boarding regulations.
The solution? Install loft flooring legs and lay a raised attic floor. While it may feel that you are losing an inch of space, that is negligible compared to the space you're gaining by installing an attic floor in the first place.
3. Install your loft flooring legs
Your loft flooring legs should follow the same pattern as the joists. In effect, they are producing the same layout, just raised up an inch or so. Some models screw into the side of the joists themselves. Others screw into the lower cavity floor. Either model works for your final floor – it is really a matter of preference, and how much room you have to work with.
4. Lay your first board
Starting by positioning your first board across the joists or the flooring legs. If it ends up overhanging, mark it along the centre of the last joist that it crossed and cut it here. This gives you the other half of the flooring leg or joist to provide maximum support to the end of the next board.
5. Stagger your boards' joins
To maximise the strength of your attic boards, you need to lay them in a staggered pattern. This means that the end of any given board does not line up with its neighbour.
6. Secure your boards
If you need to, cut the second board before sliding it neatly into position alongside the first. Attic boards have tongue and grooved edges allowing a neat – almost invisible – join. Once you are satisfied, fix them together with two or three screws along the join.
7. Fill in the holes
Once the main floor is laid, there will just be the outer edge to install. This will require you to measure up each gap and cut a piece accordingly. We recommend the use of heavy-duty gloves for this procedure, as the cut edges of your board can be sharp. What is more, as it is such a tight squeeze, you run the risk of trapping your fingers.
And there you have it – a 7-step guide to laying an attic floor. Once you are done and the boards have had time to settle, do not forget to treat the floorboards as you would any other floor in your house. After all, why go to all that trouble, if you are not going to look after it?