Handscrapped and distressed floors are gaining popularity throughout the world. More and more decorators and designers are specifying distressed floors as a way of giving the floor a rustic casual feel and to make a new floor look like it's 100 years old.
The natural brushes and scratches in a distressed floor make it a perfect choice for homeowners who don't want to get worried every time their children or home pets leave a mark on the floor. There is also some amount of prestige added for the homeowner to have a distressed, old looking floor. This type of floors become also hugely popular in commercial locations such us bars, coffee shops, restaurants, museums – because  they are simply resistant to wear and tear caused by high foot traffic volume yet add personality to  the location.
Companies and contractors who will master the art of distressing wood flooring not only can charge a premium for their work but can also offer more choices to offer customers. One thing is sure – the process requires high degree of skills and is not for everyone.
The Art of Distress
While it may seem easy enough to beat the floor with various tools and other objects, hand-distressing floors is a true art form, involving much more than just hacking up a floor.
Hand distressing floors is a true art and requires much more than beating the floor with various tools and other objects. Most experienced craftsmen have years of experince experimenting with different tools and techniques and many of them developed their own sense of style.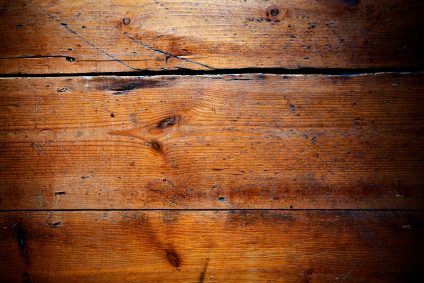 Creating the Look
The flooring craftsmen doesn't use machines and creates distinctive features of a distressed floor by hand.
Distressing process starts with hand scraping the floor either off-site, before installation or on the site, after the floor is installed. This procedure gives the most of control over the future look of the floor.
Adjusting the angle at which you scrape, the pressure you use and the sharpness of the blade all change the look of the floor. Depending on your technique, you can either tear the grain or burnish the floor, creating either a rough or a smooth look and feel. Some contractors also make their own custom blades to create different looks.
No two hand scraped floors will ever look the same – the process is very individual process and very important thing is to remember that some floors scrape better than others – oak, walnut, pine and hickory are among the species that adapt the best to handscraping and distressing. Teak, maple and exotic species don't lend themselves to the antique look.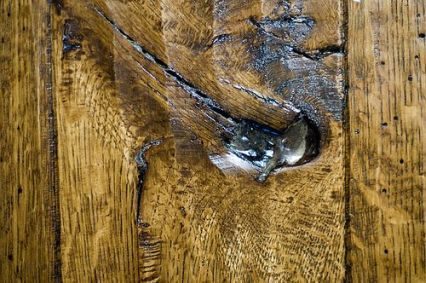 Adding Character
Hand scraping the floor gives it initial tone but then contractors must turn in to artists. They will use wire brushes to add extra texture, chains, hammers, ice picks, drills, chisels and sawblades to create dents, cracks and worm whole effects.
Another popular trick is to add burn marks by using heated bolts and nuts or soldering iron. To emphasize those effects dyes, inks, acids or black wood fillers can be added. Sometimes several colours can be applied to the floor and then randomly scrape off to give the floor desired look.
For advice about the best wood flooring for your home feel free to contact the ESB sales team. Contact us now to request your no hassle no obligation free samples or come down to our North London showroom for a closer look.