At ESB Flooring, we've observed that grey and white floors have been increasingly popular for several years. That's why we've made a great effort to find some outstanding examples and include them in our product range. For quite a time, almost all customers went for wood flooring with almost orange colouring. Luckily, it is no longer the case. It's true to say that people still tend to like natural honey-toned wood options, but an increasing number of people now go for very light or dark wood floors. Nowadays, there is also a large group of customers who prefer grey and white floors – this trend has really set in.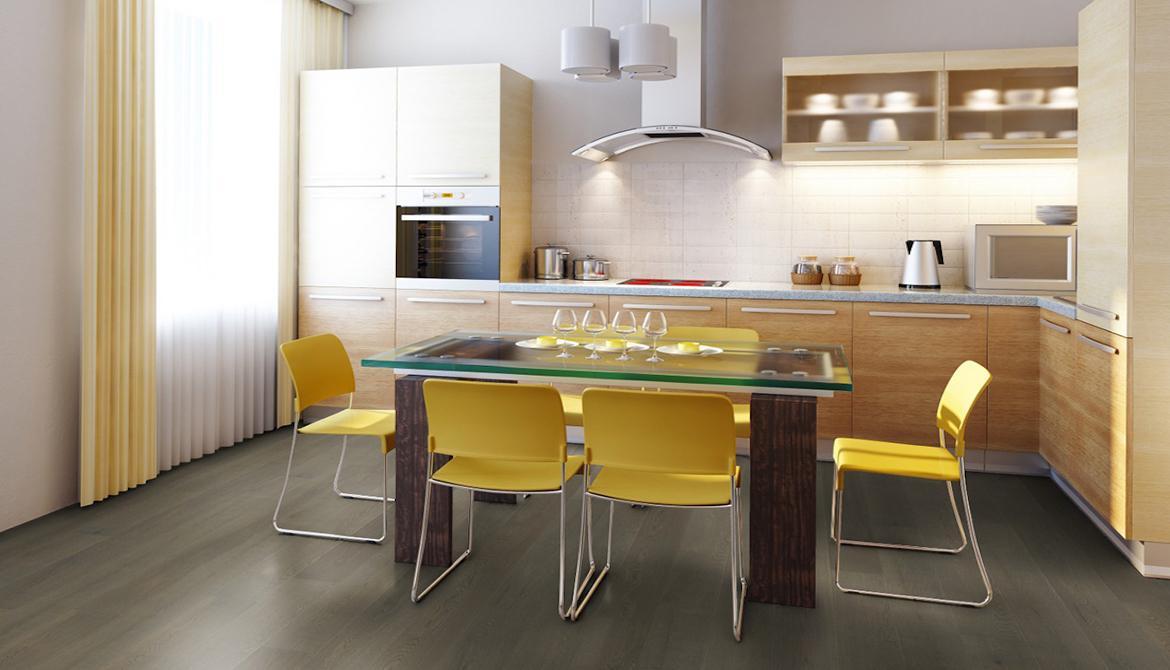 So why do we have a growing number of grey or white coloured wood flooring fans? There are numerous reasons why white wood flooring has been in recently. Those ale universal colours that are a perfect backdrop for an interior design in almost any colour you fancy. Additionally, such flooring is bright and makes each room look more spacious and illuminated, and that is why it's especially recommended in small interiors. If you're planning to install a floor at a room that is rather small, white wood flooring is a perfect option.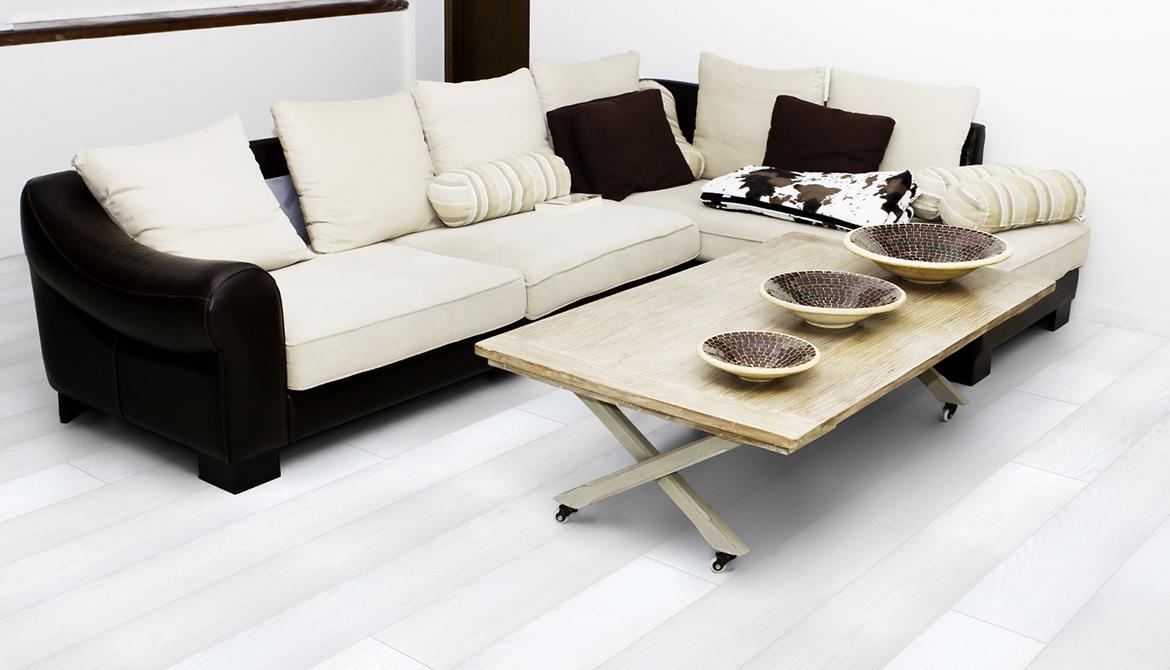 No matter what boards you will use, broad or narrow, such flooring will make the room brighter and create the illusion that it's larger than it actually is. It is unimportant whether the room is very stylish, shabby chic or furnished with antique furniture, a white coloured wooden floor will give it special character. Such flooring will perfectly suit decorations and furnishings in bright shades, washed out decorations or a monochrome mix. We can assure you that you surely won't regret the choice of a white wooden floor. Those floors come in a variety of finishes: a pristine, lacquered one or a brushed and oiled one that will make your floor look artificially aged. In all those options, the floor will always look elegant, welcoming and warm.
As far as grey wood flooring is concerned, it's also not difficult to guess why this flooring option has become so popular. Some people are not fond of black floors, as they are concerned that they will soon regret the choice. In such a case, they often go for grey, as it's a great half-way solution. Just like with white flooring, grey flooring perfectly suits monochrome interior design, muted colour schemes and neutral shades. Gray flooring is perfect both for modern and bohemian style furniture. It can be a powerful style statement especially if you properly design the entire interior.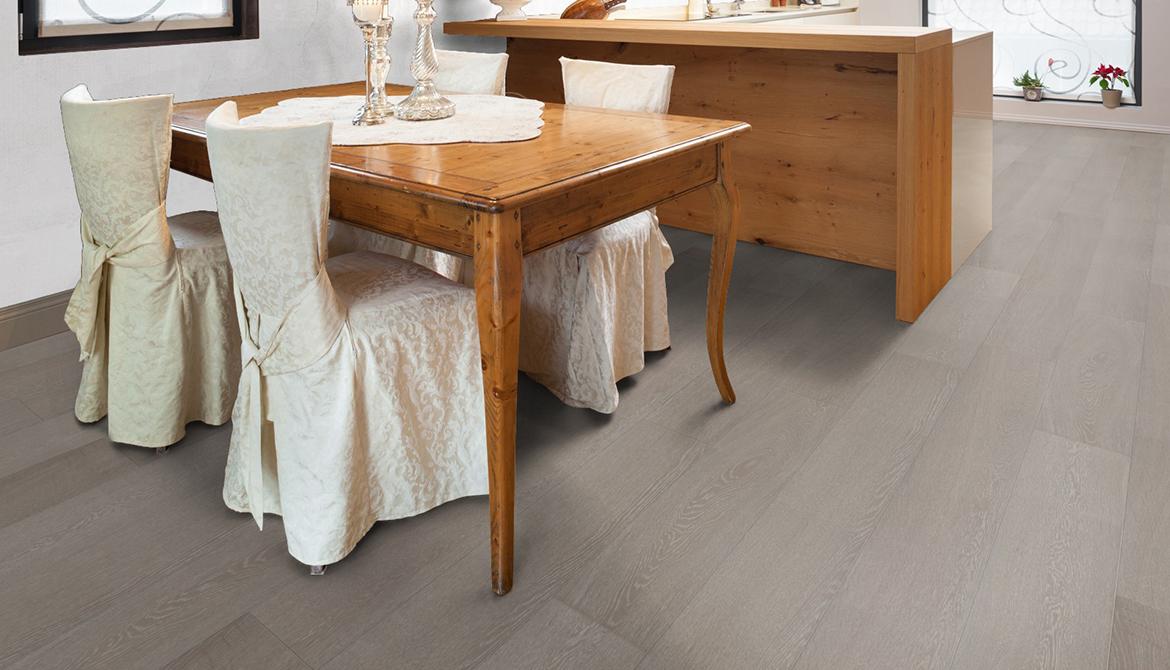 Below there are a few options which, in our opinion, work perfectly well in most rooms and are cost-effective:
• This Oak Flooring Brushed and Grey Oiled, 190mm Wide (FSC 100%) with smooth sanded and then sealed with air cured coats of translucent grey oil face. The effect is a muted natural shade which highlights the natural grain and variation of the hardwood surface. The subtle air cured finish is wonderfully tactile and works well any muted colour schemes and accent colours
• The next option of grey flooring in our product range is Grey Oak Flooring, Matt Lacquered, Rustic Grade, 150mm Wide. This floor has a Tongue and Groove joining system and is usually installed using the "Floating Floor" system, but it can also be glued down. We have two main recommendations when it comes to installing your wood floor. Always ask a professional floor fitter to install your floor and always make sure the sub-floor is smooth, level and sturdy.
• As far as white wood flooring is concerned, here at ESB we stock White Ash Flooring Brushed & Matt Lacquered, 180mm Wide. This is a very unique and modern floor. Individual boards are brushed and white Matt Lacquered. The floor has a 4mm solid top layer, very long (2200mm) planks and is 180mm wide. White board will make your room looking larger.
If you have a further questions regarding purchasing a new floor or you are looking for an advice about the best wood flooring for your home feel free to contact the ESB sales team. Contact us now to request your no hassle no obligation free samples or come down to our North London showroom for a closer look.