Wood floors are a very popular option among homeowners which can be used not only in a living room or a corridor, but also in a bathroom. However, you need to remember that most types of wood floors aren't appropriate for bathrooms. Due to changing temperature and moisture levels in these interiors, combined with a risk of water spills and splashes, bathrooms create difficult conditions for wood floors.
When you're trying to decide on the type of flooring you want to fit in your bathroom, it's of paramount importance to think everything carefully through and make the right choices from the very beginning. Otherwise, you can be dissatisfied with the condition of your floor in the long run.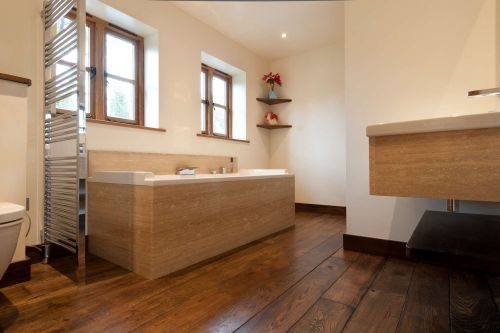 Choosing the right flooring
There aren't many of kinds of wood that will withstand the changing conditions in a bathroom, so better think about fitting engineered wood floor instead of solid wood floor.
Solid wood flooring is milled from a single piece of wood, while engineered wood floors are manufactured from several layers of wood with a thin top layer of hardwood. Thanks to its structure and properties, engineered wood flooring can better cope with humidity level fluctuations, splashes and spills which can occur in bathrooms. When choosing engineered wood flooring for your bathroom, you need to remember to go for boards with thickness of at least 14mm. In this way, your floor will be much more stable.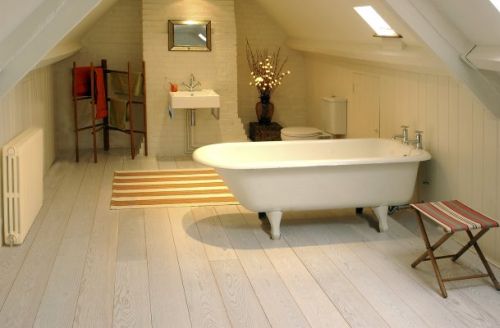 Installation process
Having selected the flooring material, you will need to think about the installation method and no matter which one you will choose, retain the gap of 20mm between the floorboards and the walls. It's essential to leave this gap around the perimeter of the room in bathrooms, as the boards expand and contract when exposed to differences in temperature and humidity levels.
Finish
Last, but not least, as the floor has finally been installed, focus on the finish you want to use. Most effective choices for a bathroom include hard wax oil and lacquer. The former option is a natural product that will guarantee protection of your floor, by getting deep into the wood structure. Lacquer, on the other hand, will make your bathroom flooring to a high extent waterproof, however, it's not a natural product. So, if you're ecologically aware and love everything that is natural, your choice should be simple.