If you are going to renovate your home you might not consider carpets as an option again. Wood floor should be your obvious choice. After deciding which species to go for, after you've made a choice between engineered flooring or solid wood floor you will definitely face the question of which wood surface finish to choose. You have a choice between lacquered and oiled wood surface .
Lacquered Wood Flooring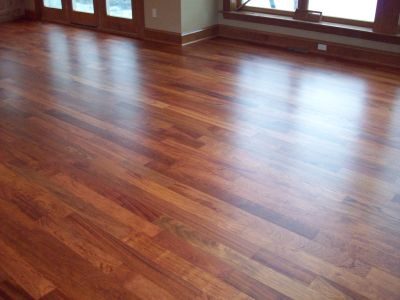 Most popular way  of securing a wooden floors is varnishing (lacquering). The protective layer which is applied  on the floor surface  provides lasting protection against daily wear and tear for years and makes lacquered wooden floor very easy to maintain. Lacquer gives you an option of matt or gloss finish but in both cases provides natural, smooth and shiny effect.
Lacquered floors are vulnerable to scratches and  scuffs which on shiny surfaces are very easy to spot. Once this happens fixing this problem is costly, not very easy and often requires sanding and repainting the entire surface of the floor. Therefore remember to take your shoes off before entering the room with lacquered floor to prevent transferring sand and small stones, use rugs and carpets in areas with the highest traffic, and apply floor protectors to your furniture.
Oiled Wood Flooring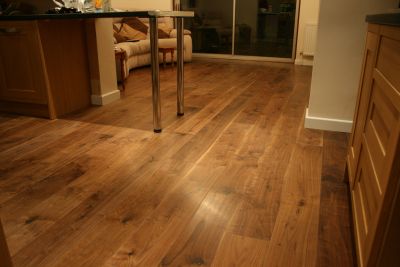 As for Oiled floors we distinguish between natural oiled and UV oiled finishes.
UV oiled means that oil is applied and dried under UV light (UV light speeds up drying process) in the factory. In this scenario floor will not need another coat of oil once it is installed
 Applying natural oil keeps the natural look and scent of wood. It assures deep impregnation and relatively quick and cheap repairs. On the oiled  floors scratches are not as visible as on painted ones and the cracks doesn't change the colour of the wood (the reason for this is that oil deeply penetrates the plank). Smaller scratches also quickly disappear thanks to "swelling" of oiled wood.
Because of deeper oil  impregnation  more serious scratches can be quick and relatively cheap repaired "locally". Thanks to those properties oiled wood floors are perfect in areas exposed to sand, dirt and in the high traffic locations, such as hallways or those close to the house entrance . Unfortunately, nothing is for free, natural oiled floor needs to be properly maintained. Another layer of oil must be applied soon after floor installation. The process must be repeated once – twice a year. In places of more frequented use this operation should be carried out even more often. However, proper floor care will let you enjoy the beautiful and natural floors for years.
Paints and oils are a major protective elements of our hardwood floors, so when painting or oiling is made on-site on new laid  floor the quality of chemicals purchased must be taken in to consideration. Cheap DIY products are not as durable and good quality branded oils and lacquers.
ESB flooring recommends oiled floors for bathrooms and kitchens and places subject to heavier traffic: public places, offices, reception areas, etc. Oiled finished wood is less slippery than varnished, which is very important in these places.
Painted floors are the best for the living room and the bedroom.
ESB Sales Team members will  advise you about wooden floors finishes. Please feel free to contact us or visit our North London Showroom if you require more information and advice.