When you decide you need to floor or re-floor your home, you can either be very well-organised and know precisely what you want, or you can feel lost in the jungle of all the available options, choices and possibilities. If you fall in the first category, then you don't need to do anything apart from visiting our website or showroom and placing an order. However, if you belong to the second group, then this article has been written for you. We've created it in the form of a step-by-step guide in order to help you make up your mind and order the right wood flooring.
Engineered vs. solid wood flooring
The choice between engineered and solid wood is one of the first and most crucial questions you'll face when making decisions related to your flooring project. As regards the difference between the two, you presumably are already aware that solid wood flooring is manufactured from a single piece of timber and one species of wood. When it comes to engineered floors, go to our previous articles, where you can find a comprehensive guide to engineered wood flooring and its characteristics. When choosing between these two options, you should, first of all, think about whether or not you've got underfloor heating (UFH) and consider the temperature and moisture fluctuations that you expect in the room covered by the flooring project. If your room has under-floor heating, then solid wood flooring isn't usually a recommended option, as installing UFH means, in such a case, a risk of cupping and bowing because of temperature fluctuations. When thinking about re-flooring such rooms as bathrooms or kitchens, you should rather opt for engineered flooring, as solid wood isn't usually advisable. To sum up, if you've got UFH or you're going to floor or re-floor a bathroom or kitchen, then engineered wood flooring is the best choice (but always make sure before placing an order that the floor you've selected can be fitted over under-floor heating). If these cases don't apply to your flooring project, then you can plump either for solid or for engineered wood flooring – both options should be equally good.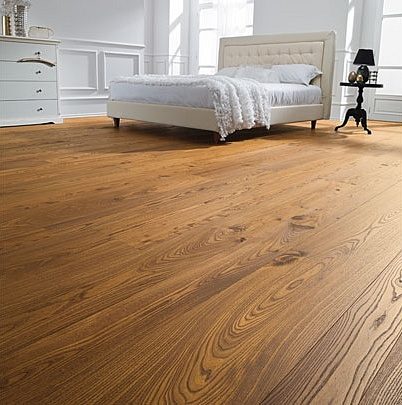 Wood species
The choice of wood species will highly depend on the budget you've got and, to some extent, also on the colour of the floor you expect. Oak is among the most popular species of wood when taking into account quality wood flooring. This wood species is not only very strong and lasts long, but is also available at quite affordable prices and usually is within the reach of all those who are in search of good quality wood flooring. On the other hand, walnut flooring and the likes are in most cases less affordable. And that's the primary factor you need to bear in mind when making a decision about wood species. Even though there are significant differences in wood colour between individual species and also within a single species, there are a lot of smart colouring techniques available nowadays which will allow you to achieve the colour of wood you dream about without the need to spend a fortune.

Grade
Wood is graded according to four different categories when it is lumbered. These categories include: prime, select, natural and rustic. The grade that wood gets is determined on the basis of the size and number of knots it contains, but also on the basis of its colour consistency as well as the amount of sap it has. Prime grade wood is the highest on the grading scale, and it has only a really small number of little knots; it is distinguished by highly consistent colouring and has a very small amount of sap. Rustic grade wood, in turn, is at the other end of the grading scale – it often has chunky knots, visible colour variations and quite a lot of sap. The choice of the right grade for you highly depends on the budget (obviously, prime grade wood is much more expensive as compared to rustic grade) as well as the look you want to achieve.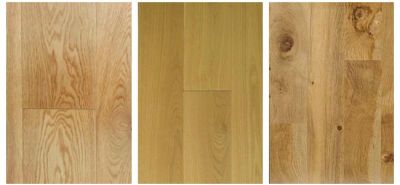 Flooring finish
Nowadays, you can purchase wood flooring which is already finished and ready to install in a one-step process, but you can also choose to buy unfinished wood flooring. Browse our previous articles to find information and helpful tips concerning hardwood flooring finishes. This will help you make up your mind as regards the finish which will be best for you. However, you may also want to delay the choice of finish and pick it only after you see the floor in situ. In such a case, an unfinished floor is definitely the best choice.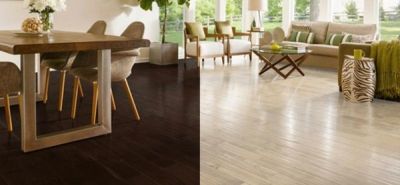 Board width
Wood flooring boards are available both online and in traditional stores in a variety of sizes, and the answer about what board width will work best for you depends on your individual taste. There is a rule in interior design saying that the best option is the one that pleases you most, and it is definitely worth following it in this case. Don't blindly follow the advice of interior designers who have a strong opinion. You can achieve stunning results with board widths that might shock. For instance, a broad board in a tiny room can look great. The same applies to a narrow board in a huge interior. Please go to our previous articles to find more information on choosing the right board width for your flooring project.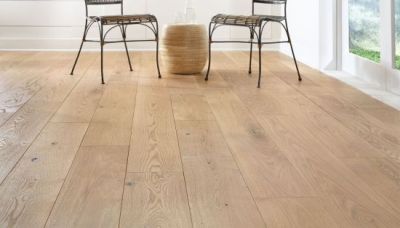 Online vs. a traditional store
The UK wood flooring market is vast and so finding a trusted partner can be a daunting task. Sadly, there are some unreliable suppliers on the wood flooring market, both online and off, but you can also find some really good deals available if you are careful. We've drawn up a guide to buying online, which is full of handy advice. This guide outlines the aspects you will need to focus on if you want to entrust your flooring project to an online supplier. In many respects, the best option is to plump for a supplier who either offers free samples of the flooring you find interesting or has both a traditional showroom and an online store. We are of the opinion that having a traditional store is crucial, and that's why we have a showroom you are always invited to visit as well as a website. By operating in this way, we can meet the needs of all of our customers and enable them to touch and feel the products we've got in our product range, and at the same time offer affordable online prices.
How much to order
If you're placing your order online, it's crucial to know how much flooring to get. A trusted supplier will assist you with this, also at a distance. Browse our collection of articles to find a step-by-step guide to measuring a room.