Used in solid and engineered wood flooring, tongue and groove wood flooring is a system of installing a floor which is made of planks. Effectively, in a tongue and groove wood floor, as the name suggests, each plank has a tongue and a groove. On one long side of the plank you'll find the tongue and on the other long side you'll find the groove. The same is true on the short sides. So on each of the four sides you'll either find a tongue or a groove, thus the name tongue and groove.
The tongues and grooves on the four sides of the floor planks are made in wood moulder and what you'll see as you look at the plank is a slot (or a groove) cut into one long side and one short side and a ridge (a tongue) protruding on the other two sides. If you look really closely, you'll also notice that the tongue is a tiny bit shorter than the groove. This is entirely normal. Tongue and groove wood flooring is created in this way so that the system can allow for the inevitable expansion and contraction of the wood.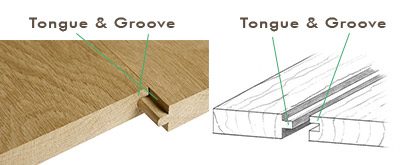 When installing a tongue and groove wood floor, the idea is to fit each tongue into each groove. You can find 5 very useful tips that you can follow during floating installation and on how to avoid wood flooring common installation mistakes in our other posts. Once installed, a tongue and groove wood flooring system results in a smooth and long lasting finish.
Tongue and groove wood flooring can either be secret nailed, glued down to a suitable sub floor or laid in a floating installation over an appropriate underlay with the edges glued together. Furthermore, when installed by a professional, will result in a really impressively low percentage of waste (as low as 5% in some instances), which means that you benefit from minimum waste and maximum coverage per m2 bought as well as a really great end result.
If you have a further questions regarding wood flooring installation or you are looking for an advice about the best wood flooring for your home feel free to contact the ESB sales team. Contact us now to request your no hassle no obligation free samples or come down to our North London showroom for a closer look.