You're planning on renovating a luxury property or building a house that you've dreamt about your entire life – and the floor is a major factor that will influence the final look of your home and the overall impression it makes on visitors. As we've stressed multiple times, your success will to a large extent depend on making the right choices.
You're at a point where all structural details have been carefully planned and you've already ordered top quality materials required in the process of construction or renovation of your home.
This sometimes entails significant outlays, but if at the end you get the home of your dreams, you'll see that the investments were worth their price. However, the final result may in some cases be spoilt, due to insufficient attention to detail as far as finishing is concerned. That's why you need to take reasonable and well-founded decisions when it comes to all the finishing materials and their installation. This includes flooring, which is one of the crucial elements of interior design.
Obviously, hardwood floor has long been a sign of luxury. No wonder that it's probably the first choice of many homeowners. But hardwood floors also differ from one another – some are stylish and elegant, while other are simply standard. In this article, we've listed the aspects that may have an impact on why one floor is perceived as outstanding and luxury, while another one is considered standard.
Those aspects include the colour of wood, its thickness and grade as well as the edges of floorboards.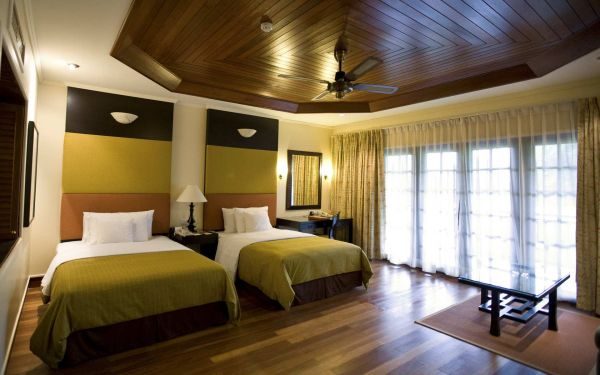 Look of the floor
The factors which we take into account when determining whether a given floor looks elegant include its colour, wood variation and the number of knots. But, your choice of the colour of boards for your luxury wood floor project depends on your individual preferences. It's a subjective decision, as one person may consider a given floor classy, while someone else will assess it as a standard-look floor which lacks elegance. In general, many people who want to achieve a very stylish and chic look go for either very light or very dark, almost black floors, These shades are associated with luxury, but to be honest you always need to have the final effect in mind and choose the colour individually for each flooring project.
Thickness of the boards
The second factor that is sometimes overlooked, but is most certainly worth mentioning, is the thickness of the boards.
As far as wood floors are concerned, the ticker and heavier the board, the higher its quality. Heavy and thick boards are much more durable and most of all are associated with quality and elegance. Therefore, if you want a flooring option that suits your luxury property, go for thicker boards (however, if you have under-floor heating, thinner boards are definitely recommended).
Those who prefer  engineered wood floors should pay attention to the thickness of the top layer – the thicker the lamella, the more luxurious the flooring you choose. Once again, please note that if there's under-floor heating in the interiors where you're installing the floor, you should always read and follow the rules for fitting wood floors over under-floor heating.
Wood flooring grade
Thirdly, grade of wood. No matter if you've chosen engineered or solid wood floor, there's one more decision that needs to be taken – the grade of wood. The choice of grade in the case of solid hardwood flooring determines the grade of the entire board, while in the case of engineered wood, this choice affects only the top layer of the board. Lumbered wood is available in one of four different grades depending on its look and the number of knots.
These include: prime, select, natural and rustic. They are grouped from left to right, starting from one with a very uniform colour and a very insignificant number of knots or sap – namely prime grade – and ending with rustic grade wood, which has a high number of sometimes large knots, a high level of sap and a rather inconsistent colour.
There is nothing wrong with the latter one, which is a popular choice among homeowners and has a considerable advantage of being available at an affordable price. It can obviously help you achieve a great final result and look perfectly in some settings, but if you strive for a luxury effect, there is no better choice than prime grade.
What type of board edge to choose?
The next important factor is the choice of the edges. In most cases wood flooring that's available on the market these days, both engineered and solid, has either bevelled or micro-bevelled edges. Bevelled flooring has strips or planks with a slight 45 degree angle on the top edges of the board. There is also a different option, which is usually considered a more luxurious solution, namely square-edged boards. Square-edged floor is one where the sides of each plank of a square edge hardwood floorboard meet squarely. The costs of manufacturing of square-edged floorboards are much higher.
Those boards are also rather fragile and can get damaged in storage or during shipment, so special attention needs to e paid to avoid that. All in all, square-edged flooring installed by a professional fitter will give you a totally uniform and chic look. Therefore, if luxury is what you're looking for, square-edged hardwood floor is the best bet.
Carefully analyse the aspects mentioned above when picking the flooring option suitable for your house or flat.
Regardless of whether you will go for an engineered or solid wood floor, taking all those tips into account will definitely pay off. Obviously, as you've already chosen the flooring for your luxury property, remember not to spoil the final result, by having the floor poorly installed. Especially if you went for a square-edged wood floor, always devote the required amount of time and money, ensuring that the floor is perfectly installed.
If you've already analysed the above aspects and made relevant decisions, wait until your flooring project is complete and simply enjoy your perfect luxury flooring.