ESB Flooring, as one of the major official resellers of Parador products, offers a wide range of engineered and laminated floors.
When designing its broad product range, ESB focuses mostly on top-quality engineered floors, and Parador is a company that guarantees top quality, the highest production standards and the best technical parameters.
Thanks to many years of experience in the flooring industry, Parador has gained expertise and extensive know-how about different characteristics of various kinds of wood. Therefore, the company can offer its customers a very interesting and broad range of flooring solutions made of wood with different formats, grades and surface treatments.
The kind of wood is crucial, as it determines the looks of the floor. It is used only in a 3-layer product composition of Parador engineered wood flooring, which guarantees high dimensional stability. Moreover, the floors Parador has on offer are equipped with special intelligent click mechanisms, which enable fast and easy installation, without the need to use any tools or additional equipment.
Parador floors owe their high quality to 4 crucial factors:
1. Solid top layer
High quality solid wood, which is up to 4 mm thick, has high solids or natural oil finish. The lamellar and top layer impregnation guarantees protection against damp and provides enhanced swell protection, ensuring long-lasting and perfect final effect. To avoid cracks, the wood is gently dried.
2. Quality middle layer
Even if installed in high or heavy traffic areas, Parador engineered floors offer high stability and withstand heavy wear with minimal maintenance required. All that is possible thanks to the solid spruce-fir wood core with raised growth rings. Additionally, a patented click system allows seamless installation without the need to use any tools or adhesives.
3. Balancing veneer
All Parador floors are manufactured in compliance with top production standards and in a sustainable way. The boards have enhanced stability thanks to balancing the veneer made of solid spruce.
4. Patented click system
The click mechanism applied in Parador floors make the installation process convenient, easy and really fast, guaranteeing high pull-out resistance and durability. Thanks to that interlocking system, your floor will always look great and the individual planks will be tightly connected, preventing any undesirable movement or warping. The planks are aligned easily, which allows for easy fitting, by floating or gluing the planks over the entire area. Additionally, a huge advantage that is worth mentioning at this point is that the floor is ready to use right after you're done with the installation.
This installation method is also very useful for another reason. If you want to install a dark floor, which does not have a high-quality connection system, you can often face problems, such as small cracks occurring between individual planks, through which you can see the internal layers of the floor, which are the colour of natural wood. Therefore, the installed floor loses all its charm and beauty – it makes an impression that the fitter didn't do his job the right way.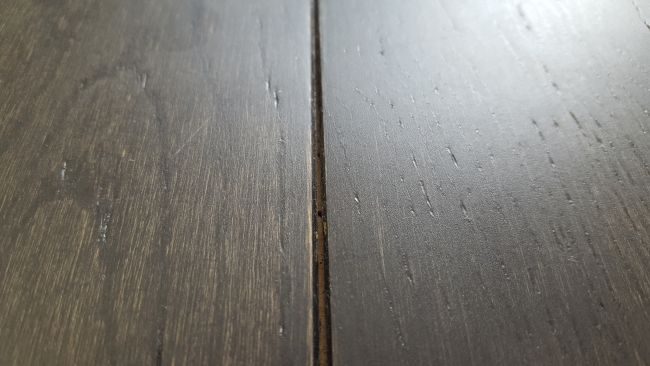 Floor with a weak click system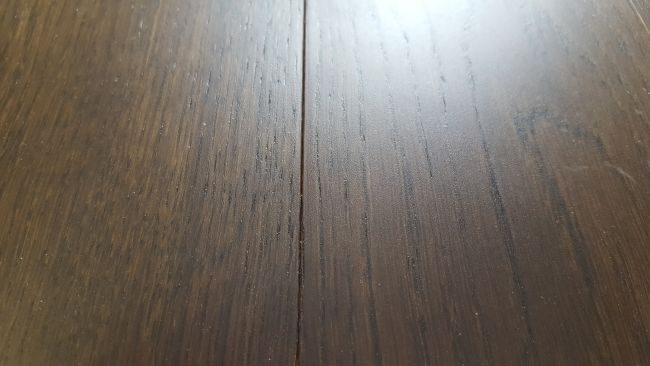 Floor with Parador Click System
Parador's Automatic Click System makes the installation process fast and easy, delivering the best results, with minimal maintenance required. It eliminates the problem of gaps between the boards once and for all, ensuring that the floor, such as our Engeneered Fumed Oak Flooring, has perfectly uniform colour.