The floor that you choose for your home has a huge influence on its overall look and the effect it makes on the visitors. There are various aspects that need to be taken into account when implementing a new flooring project. There are many choices you need to take before you will be able to enjoy a new floor in your hall or living room. It all depends on your lifestyle, your individual likes and dislikes and any special requirements you may have. You are spoilt for choice as there are various wooden products to choose from, with different wood types, colours , shapes, board sizes and board installation methods.
The choice of the right floor to suit your individual needs can be quite a daunting task, as there is a broad array of products available in the market that all seem so similar to each other.
However, in fact they differ in many ways if you look closer and read the information about a given product. Those seemingly unimportant details should really be paid attention to.
Only in this way will you be able to make a conscious decision and make your floor look great, last long and suit the individual needs of your household.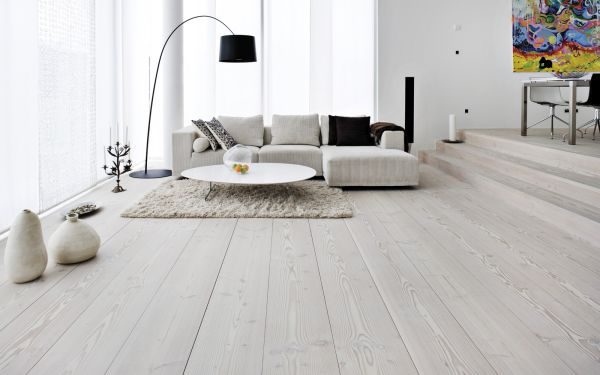 If you have already browsed through some information about various flooring products, you have probably noticed that floors differ in terms of thickness, width, shade, shine and lengths of the board. Most of those details can be quite obvious and are widely discussed, while others, such as the length of the planks, are often left out.
And that is because most people think it doesn't play any role. In fact, it's just the opposite, as the length of the planks will have a big impact on the overall look of your floor. It will influence both the visual and technical aspects.
The Length
First and foremost, the length of floor boards you choose will in most cases depend on your budget and will determine the required workload. If you choose a fix length product, there will be more cuts, it will require more time, effort and a bigger budget. However, boards with random lengths require less wastage, as you've got smaller boards and do not need to cut them. Therefore, it's more time- and cost-effective.
The Design
Secondly, always pay attention to the original design of the given room – it's one of the most important issues to be considered. Stick to what you like, but bear in mind that for instance the choice of fix lengths products will make your interior look modern and exquisite, while random length boards are best for rustic interiors.
Rectangular plans are probably most suitable for all kinds of boards and such rooms can be most economical from many perspectives and there are high chances for an exceptional final result.
No matter if you opt for a shallow pattern or for a distinguished visible feature, the length of the planks has to suit your flat or house. If you pay attention to details in interior design, it's definitely a must to consider the length of the boards. Other aspects of the floor, such as its shade, floor pattern or lighting in the room determine the atmosphere in the given interior – it can be cheerful and vibrant, or dull and bland.
No matter whether you dream of a high-class stylish room, or take an ultramodern approach, pay attention to the length of the floor board, as it will help you achieve the final result you've planned. Be creative, take your time and realize your dreams – after all, your home should be a perfect place for you, where you feel at home, relax and let your hair down.