Luxury Vinyl Tiles, or LVT, are sometimes also referred to as Click Vinyl Flooring. They are known as a highly durable solution, with numerous advantages, which resembles high-end flooring designs. It is composed of several layers and apart from looking great, it's one of the most resistant flooring options in the market.
LVT has lately become very popular among the homeowners in the UK and the world over, becoming a new trend in interior design. As it's manufactured on the basis of a multi-layer construction of solid vinyl, high density glass fibre, PVC printed film and reinforced K-Guard+ PU coating. Such a structure is a guarantee that Luxury Vinyl Tile will easily cope with the daily wear and tear in a busy household. Moreover, the planks are supplied as an easy gluedown or a click fixing option and they can be fitted in any formation. You can choose from among a popular parquet design resembling real wood or more outstanding tiled patterns. This flooring option gives you much room for creativity in terms of design – there is a vast selection of different designs and everyone can find something to suit their individual preferences.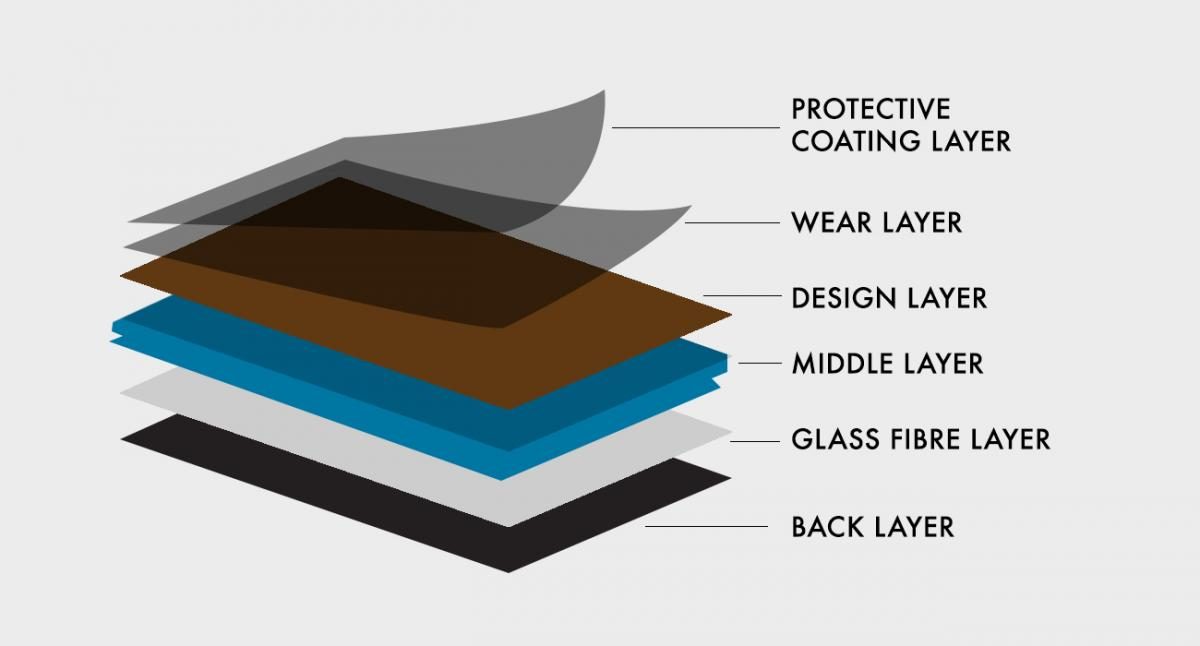 LVT Load-Bearing and Stabilisation Layer
The basis for long service life and high performance of the flooring. This layer guarantees the structural support which the vinyl requires for good performance. A strong backing enhanced with a layer of glass fibre ensures dimensional stability, which prevents curling and keeps the flooring flat on the ground when installed. Moreover, the glass fibre ensures a cushioned, soft feel of the floor.
LVT Pattern Layer
The ultra-realistic design layer is manufactured with the use of cutting-edge design technology, which guarantees the effect of stunning wood, stone and ceramic tiles on the design film. The design is complemented by a coating of mesh, which creates very realistic textures of the given flooring, by being grained at a high pressure.
LVT Top Layers
A protective wear layer additionally shields the design for a long-lasting perfect result. A final coating of K-Guard+ PU ensures it's a low-maintenance option, as it guarantees great cleaning ability and enhanced resistance to scratching.