As wood is a 100% natural product, you need to bear in mind its characteristics when bringing it into your home. Wood flooring that we buy undergoes several procedures during the manufacturing process. It is dried, cut and processed into wood planks. Nevertheless, it still retains certain characteristics of a natural product, thus responding to temperature and humidity level fluctuations as well as changes of various ambient conditions.
Humidity and Flooring
That's the major factor which can have an impact on your wood floor. Humidity level fluctuations can cause wood planks to expand and contract.
This process is something natural for wood floors and it occurs even if the floor has been laid some time ago. Slight expansion or contraction is absolutely nothing to worry about, but in interiors where humidity level is too high it may turn out to be a quite problematic issue.
Among the methods of protecting your floor against undesirable results of these natural processes, such as warping or bending, we should mention leaving expansion gaps around the perimeter of the room – by doing so, you can avoid excessive bending, bowing or gaps.
However, you still should keep humidity level low if you want your wood floor to look good for a long time. Stick to this advice and above all remember to make the right choice of wood flooring – it should be suitable for areas with high humidity level.
In this article we've decided to name some of the most common reasons for high humidity in the home. We also present you with some handy tips on what to do to avoid damage caused by high humidity and ensure your floor looks great for long years.
High humidity in your home – reasons:
1. Wood subfloor moisture.
When you're installing a new wood floor to a sub-floor that has already been there, remember to make sure that the sub-floor is in good condition and that its moisture content is considerably low. It would be perfect if the moisture content ranges between 5-8%, or is lower. It is a must for every homeowner to control the moisture levels prior to starting the installation process, or else problems can occur with time.
2. Dampness of walls.
There can be several reasons behind damp walls in your home. Firstly, the house may need some sort of moisture control, for instance damp proofing, which will prevent moisture from passing into the interior spaces. Secondly, the given room may be inadequately ventilated.
If the moisture level of your walls is high and it becomes a serious problem, don't hesitate and talk to a professional, who will most probably solve the problem for you. However, if dampness has been caused by condensation, improving ventilation may be all you need.
The other possible cause of damp walls can be its recent re-plastering, in which case the walls will dry out in a while, but, anyway, be vigilant and check on your floor, making sure that there are no signs of damage on the floor, due to dampness coming from the walls.
3. Obviously, bathroom is a difficult environment for a wood floor.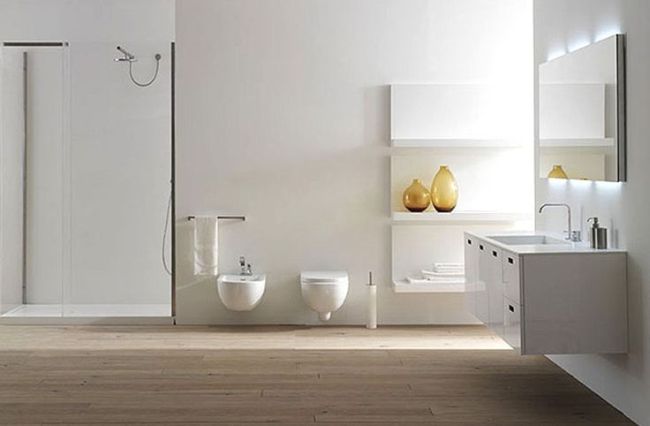 It is exposed to several harmful factors, but this should not prevent you from getting a wood floor for your bathroom, if that is what you want. Make a right decision and you will enjoy a great long-lasting wooden look there, in spite of all the dampness and humidity it has to endure.
4. Frequently used kitchens.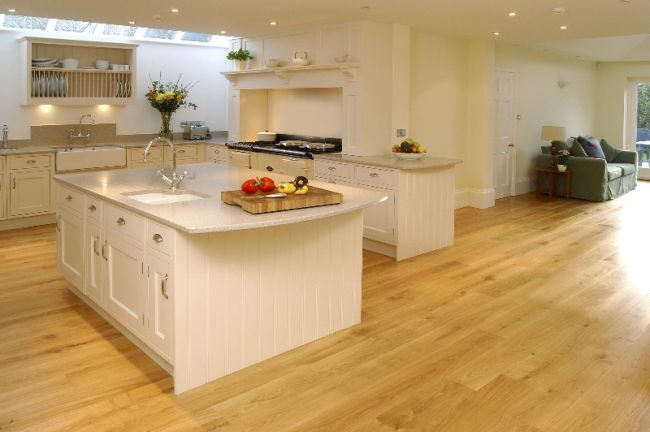 If you live with a family, kitchen is the central place in the home where all the family members meet for mealtimes. Preparing and serving meals entails a lot of heat and humidity. Therefore, all wooden elements, and especially your wood flooring in such an area will be put to the test – that is why you need to think that through in advance to avoid making a mistake that can cost you time and money, due to the need to renovate or replace the floor soon after it's been laid.
How to measure humidity in your home
Humidity levels can be measured with the use of various machines – either buy or hire them to measure humidity in walls or floors. If you're facing problems with excessive humidity in your flat, don't rush and carefully check it before laying the floor, and determine how serious the problem is. Then, you may seek professional advice to solve it, preventing wood floor damage.
As far as subfloors are concerned, check humidity levels, before installing your new wood flooring. In the case of timber subfloors, it's recommended to take approximately 30 moisture readings throughout the room and see whether the moisture level is appropriate or whether it can cause problems in the future.
The average of all readings you've made should range between 2 and 3 percent, and should not exceed this level. In the case of concrete subfloors that have recently been laid, moisture level will be more of a challenge. Then, the average humidity reading should be about 35 or 40 percent, or 2-3%, in the case of moisture content.
If at some point there is an isolated high reading, there is usually no need to worry. However, if you observe large fluctuations across the readings you've made, don't ignore it.
Engineered wood floor – the best option
When making a choice of the proper wood floor for an area with high humidity level, you can rest assured that engineered wood flooring is the best option. That is a type of flooring which is manufactured to resist damage due to moisture to a much greater extent than solid wood, most of all because engineered wood flooring is not subject to natural expansion and contraction processes to such an extent as is the case with solid wood flooring.
Those are the reasons why engineered wood flooring is a safe bet for any high-humidity areas, such as bathrooms or kitchens. High moisture level should not be a problem in this case. However, if humidity really is an issue at your home, pay attention and take the time to check it carefully and get professional advice. In this way you'll avoid the unnecessary stress and get the things right at the very beginning.