In the past, hoovers were not recommended for use with wooden floors. Many people who removed their carpets and bet on bare wooden floors instead decided to put their hoovers aside. But, you need to remember that a hoover can be really helpful in cleaning a wooden floor. If you want to remover dirt and dust from corners, cracks and crevasses, nothing will prove as effective as a hoover. However, bear in mind that when using a hoover on a wooden floor, you will need to be very careful.
Do not use the hoover too often
First of all, do not use the hoover too often on the wooden flooring, because hard parts on the hoover damage the finish of the floor. Hoover wheels as well as any hard attachments can scratch your perfect wooden floor finishing if you're not careful enough. All in all, it is recommended to use your hoover on wooden flooring, but it needs to be used carefully.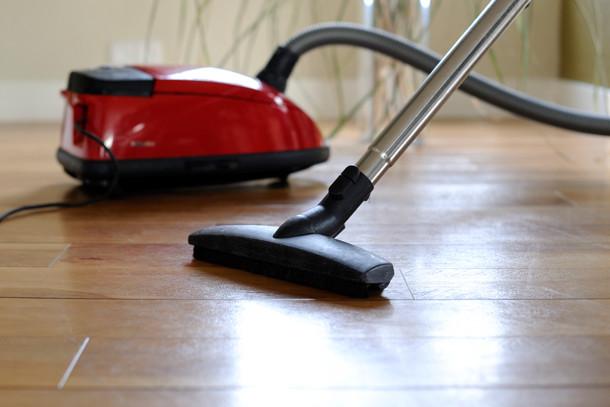 What about type of flooring?
And if you're buying a new hoover, it's essential to choose it carefully taking into account the type of flooring you have. Obviously, a thick wool carpet requires different treatment than wooden flooring. If you've got both carpets and wooden flooring in your house or flat, a perfect hoover needs to have a carpet and a wood flooring switch option. You can choose between two basic kinds of hoovers: upright and cylinder. In general, upright hoovers are better for carpets, while cylinder hoovers for both carpets and wood flooring.
Type of hoover
Cylinder hoovers are ones whose "body" stays on the floor and there's a range of different cleaner heads attached to tubes which extend your reach. These hoovers are popular for their lightweight shape and easy mobility. They're small – which means they're easy to store, and lightweight – which means they're easy to lift and less likely to damage your wooden flooring. If you've already chosen a cylinder hoover, you need to make one more decision of whether to choose a bagged or a bagless option. It is true to say that bagless hoovers are initially a bit more expensive, but they are cheaper in use, as you don't need to spend money on bags.
Type of bristles on your hoover's attachment
The next important factor to focus on is the bristle (on the body of the hoover, or on the attachment). The bristles shouldn't be too hard, because otherwise they can leave unsightly scratches across your floor, damaging floor finish. Because of that many of the hoovers have specially adapted attachments or heads for use with wooden floors. If you've installed high-quality flooring, and you'd like it to last for a long time, it's also a good idea to invest in such special attachments. Most of them are made of horsehair or synthetic bristle, which is very gentle and protects the floor against scratching. When hoovering your floor, do it in sweeping motion. When proceeding in this way, you're going along with the grain of the wood, and thus avoid scratching the floor.