If you plan to furnish a room in your home you might be pondering which type of flooring will work the best. The two most popular options are wood flooring and carpets, but which is best?
Carpets: The benefits
Carpets are popular because they are cosy. They are soft and comfortable to walk around on, whether in slippers, socks or bare feet, and they are effective at keeping out the cold. 
Carpets also offer a certain level of sound-proofing. A further benefit of carpeted floors is that they can be used to introduce colours and patterns into a room. Carpets can also be easily cleaned with regular vacuuming.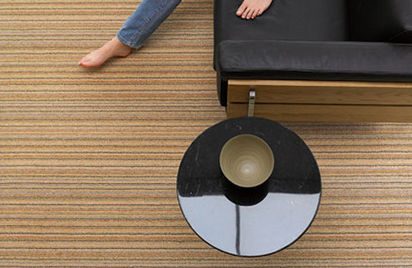 Carpets: The drawbacks
While a weekly vacuum should keep a carpet in decent condition, a deeper clean is not so easy. Carpet shampooing or steam cleaning is a much more arduous job and often a specialist or specialist equipment is required. Deep cleaning is necessary quite often with carpets as well, perhaps because muddy shoes have walked over it or a glass of red wine has been spilled. It should also be noted that even after a deep clean carpets can still retain an odour of what was spilled.
Another drawback of carpets is the fact they hold more dust, animal hairs and other small particles than wood floors. This can be a problem for allergy sufferers as these particles could aggravate their allergies.
Carpets must also be replaced much more often than wood floors, whenever they start to show signs of wear or sun damage, as well as when fashions change.
Wood flooring: The benefits
There are numerous benefits to wood flooring when compared to carpets. For instance, wood floors can be kept clean very easily, and the only equipment needed is a sweeping brush, a dustpan and a mop. Deep cleaning of wood floors is as simple as that and any spills and marks can be immediately wiped away.
Another advantage of this type of flooring is that it is extremely hardwearing and quality flooring will last for many years.
Wood floors are also great for allergy sufferers, as they don't hold dust and particles like carpets do. They are good news for pet owners too, as hairs, paw prints, 'gifts' from the cat and anything else can be cleaned up in no time. Wood floors are therefore a very hygienic, as well as a practical choice.
Wood flooring is a popular choice because of what it offers style-wise too. A good quality wood floor has a timeless quality, meaning it can work with almost any décor. A wood floor is a great way to create a contemporary look and for this reason it is used widely in new apartment buildings. Alternatively a wood floor looks fantastic in a more traditional home, either scattered with colourful rugs or left as a feature in its own right.
Wood flooring: The drawbacks
Some people feel that carpets are cosier than wood floors, although with rugs that doesn't have to be the case. Another criticism is that carpeted floors are a little warmer. If you want really toasty floors you could opt for underfloor heating, which can be fitted beneath engineered wood flooring.
We have taken a good look at both of these flooring options now and hopefully this post will help you decide which would be the best option for your home.